Israeli-Palestinian peace talks meeting to be called off over protest deaths?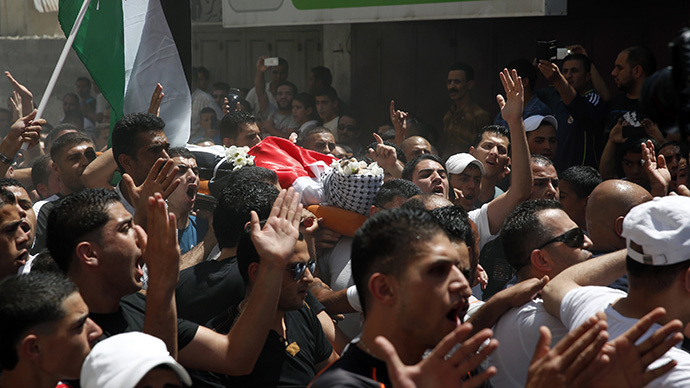 Scheduled peace talks with Israel will not go ahead, Palestinian officials said after IDF officers shot dead 3 Palestinians in a border clash. But now the US states the negotiations have not yet been cancelled.
Israeli officers shot three Palestinians dead during a clash at a refugee camp when an arrest operation spiraled out of control. The IDF are now investigating the altercation that left 15 injured, six of whom are now in hospital in critical condition.

Hundreds of Palestinians clashed with Israeli Defense Force troops on Monday at Kalandiya refugee camp, in the West Bank, north of Jerusalem. Palestinian hospital officials identified the three men as Rubeen Abed Fares, 30; Yunis Jahjouh, 22; and Jihad Aslan, 20. Fares and Jahjouh died after sustaining bullet wounds to the chest, while Aslan died of brain damage.

The violence erupted during a dawn undercover mission to take a suspected terrorist into custody, said an IDF spokesperson, claiming a group of Palestinians attacked the police. Palestinian news agency Ma'an reported that the suspected terrorist was Yousef al-Khatib, who had recently been released from Israeli custody after 10 years in jail.

"During a nighttime incursion of security forces to arrest a suspect in Kalandiya, southeast of Ramallah, they were met with violent and disorderly conduct by hundreds of Palestinians who attacked them," said an IDF statement.

The statement went on to say that the Israeli officers opened fire with live rounds because they felt "immediate danger to their lives."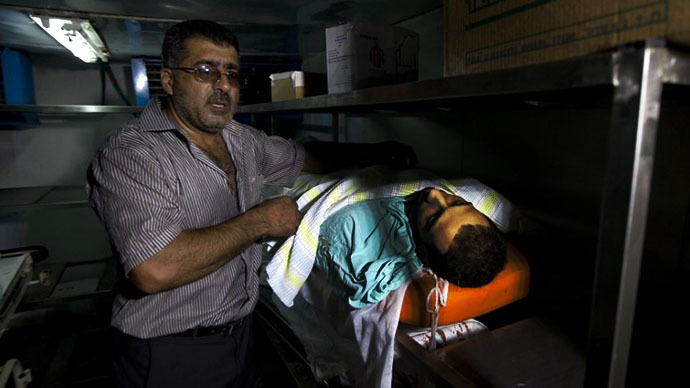 The account from Palestinian officials differs insofar as they maintain there was never a threat to the lives of the security forces involved, Israeli publication Haaretz reported. Citing Palestinian witnesses, Haaretz wrote that rioters threw stones, but did not fire at the IDF officers.

The Palestinian Authority condemned the "assassination" of the Kalandiya men and "series of Israeli crimes," Nabil Abu Rudaineh, the spokesman for PA President Mahmoud Abbas was quoted as saying by WAFA.

"The meeting that was to take place in Jericho...today was cancelled because of the Israeli crime committed in Kalandiya today," an official from the Palestinian Authority told AFP, adding that there would be "repercussions" for the incident. 

Representatives of the Palestinian Authority were due to meet with Israeli negotiators on Monday in Jericho before the talks were shelved.

Later in the day, however, the US State Department said the peace initiative was set to continue.

"I can assure you that no meetings have been cancelled. The parties are engaged in serious and sustained negotiations," Mari Harf, a spokeswoman for the State Department, told Reuters on Monday.
Tensions have been rising between the Israelis and Palestinians recently following Israel's announcement of plans to build another 1,200 homes in East Jerusalem and the West Bank. The Palestinian Authority and Israeli government recently agreed to revitalize peace talks brokered by the US, but the Authority has condemned the latest construction announcement as a deliberate attempt to "scupper" negotiations.

"If the Israeli government believes that every week they're going to cross a red line with settlement activity, if they go on with this behavior, what they're advertising is the unsustainability of the negotiations," Palestine's chief negotiator Saeb Ereka told Reuters.

As a concession, Israel released 26 Palestinian prisoners on August 6. Palestinian President Mahmoud Abbas demanded the release of prisoners who have been behind bars since before the 1993 Oslo Peace Accords took effect.

Peace talks were put on hold in 2010 because of Israel's refusal to halt its illegal settlement program.

You can share this story on social media: