Palestinians form human shields against Israeli attacks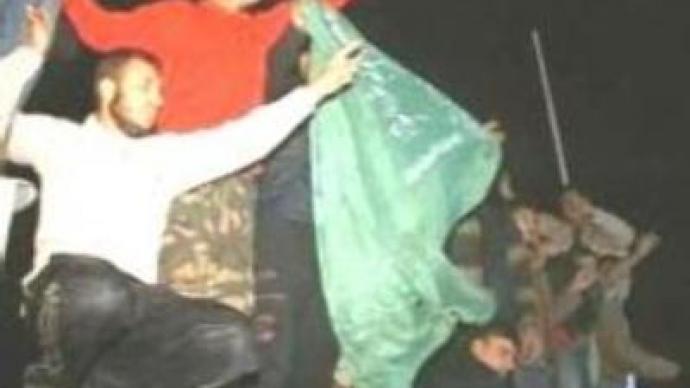 A senior Hamas commander and an elderly Palestinian woman are the latest victims in the Israeli offensive in Gaza. The Israeli military moved in on the house of Ayman Hassanin on Tuesday morning, killing him and the woman.
Later on Tuesday Palestinian militants fired rockets at the Israeli town of Sderot, wounding one person.It comes in response against Palestinian rocket fire from Gaza. Witnesses say one of the rockets landed just a half mile away from a convoy carrying Louise Arbour, the UN High Commissioner for Human Rights, who is touring the town. Arbour was unhurt in the attack but received an angry reception from local workers when she insisted on seeing the results of the rocket fire.The Palestinians are hoping that a more moderate coalition government will end an international aid boycott which was imposed after Hamas' victory in the elections early this year. Abdullah Abdullah, the head of the Political Committee of the Palestinian Legislative Council, told Russia Today that the talks between the rival Palestinian Hamas and Fatah parties on forming a joint cabinet are moving slowly forward.Russia Today's correspondent in Jerusalem Paula Slier said Israel has it's own requirements for the future Palestinian government."Israel's position on a government of national unity of the Palestinian side, is quite firm. Israel is insisting that any future Palestinian government adhere to the free conditions being called for by the international community and includes recognition that the State of Israel lay down weapons and adhere to past agreements between the Israeli and Palestinians. Israel will support a Palestinian government of national unity. It does not support the current Hamas government because Israel regards Hamas as a terrorist organisation. But so far, the main sticking point in these talks for a national unity government comes from Hamas which is sill refusing to explicitly recognise the Jewish state," Paula said.
You can share this story on social media: