Palestinian unity government agreed upon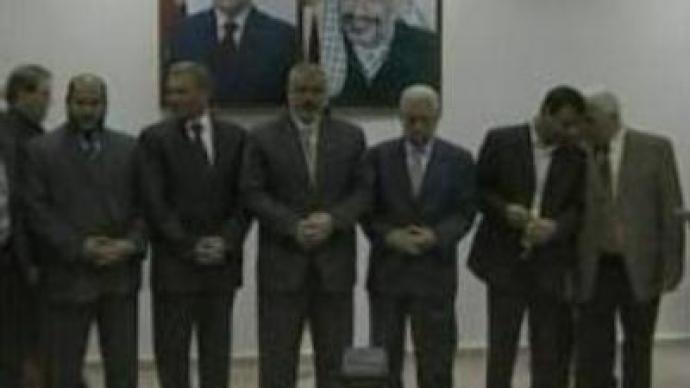 After weeks of stop-start negotiations, a new Palestinian national unity government has at last been agreed upon. It is hoped to end months of factional violence between Fatah and Hamas.
The Palestinian Prime Minister has resigned along with the rest of the Hamas-led cabinet. There will now be 5 weeks in which to form the new government. The move came after Mahmoud Abbas and Ismail Haniyeh ironed out last-minute problems from a deal signed last week. The president of the Palestinian Authority, Mahmoud Abbas, called on the prime minister, Ismail Haniyeh, for respect of the Palestinian people's interests, saying:
"We call you as Prime Minister to be committed to the Palestinian people's interests and to protect their rights and their vested rights, and to develop it and to work on achieving their national goals, as it was ratified by the decisions of the Palestinian national councils and the national accord draft and the Arab summit decisions. And according to that, I call you to respect the international legitimacy decisions and the agreements which were signed by the Palestinian Liberation Organisation."
While his words fell short of international demands of an explicit recognition of Israel, Mr Abbas is hopeful it is enough to end a crippling trade boycott of the Hamas-led government.
You can share this story on social media: