Palestinian hunger striker released, exiled to Gaza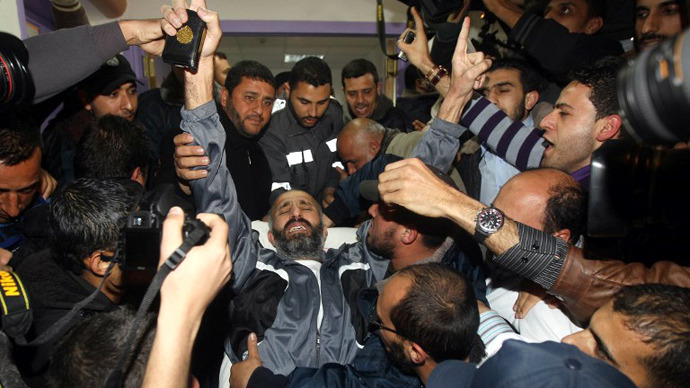 A Palestinian prisoner has been exiled to Gaza for ten years, after a long-term hunger strike led the Israelis to sign a deal, releasing the inmate from prison, after holding him without charge for months.
"Palestinian prisoner Ayman Sharawna, who has been on hunger strike since mid-July, has reached a deal with the Israeli side under which he will be released to Gaza and exiled there for 10 years," Qadura Fares, head of the Prisoners' Club said.

Sharawna is one of four Palestinian inmates that went on hunger strike in the summer protesting the conditions of their detention by Israel.

According to the Ramallah-based Prisoners' Club, Sharawna would be allowed to go home after his exile if he was not involved in future militant activity.

"It was decided that after 10 years he would be able to return if it is concluded that he has not gone back to terror activity," it said in a statement.

The 36-year-old had already been released in October 2011 under terms of a prisoner swap deal with the Palestinians, after being sentenced to 38 years in prison.

But three month later the Israelis arrested Sharawna for violating the terms of his release, without, critics say, providing convincing evidence. Israel tried to make him serve his original sentence, so in response Sharawna refused to take food.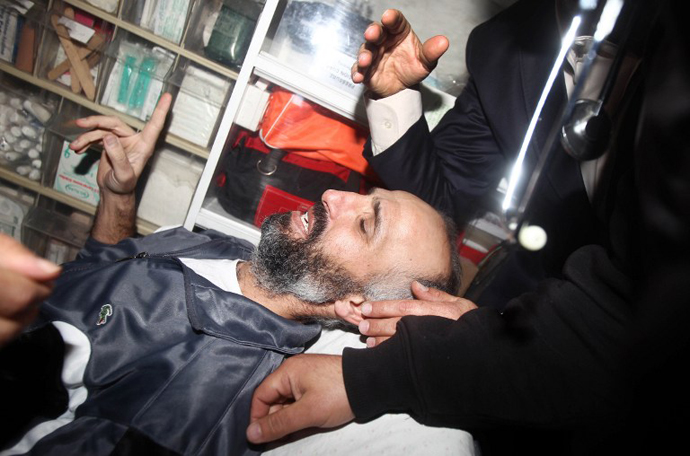 The other hunger strike inmates, Jaafar Ezzeddine and Tariq Qaadan, resumed eating late February after their three-month hunger strike, with Samer Issawi now in hospital because of deteriorating health conditions after intermittently refusing food for eight months.
Issawi was arrested in 2002 and was sentenced to thirty years in prison on charges of possession of weapons and forming insurgency cells in Jerusalem.
In October 2011, Issawi was released along with Ayman Sharawna and 1027 Palestinian prisoners as a result of a deal between Hamas and the Israeli government for the return of Gilad Shalit, the Israeli soldier taken hostage by the militant group.
Issawi was rearrested in July 2012 and has been held without any charge or trial since then. Issawi has been on a hunger strike since July 29, 2012.
In February, Palestinian President Mahmoud Abbas in a letter to UN Secretary General Ban Ki-moon has tried to raise awareness of the condition of Issawi and  other prisoners of Israel engaged in a hunger strike.
Last year Amnesty international also stepped up its efforts to end the illegal Israeli detention of Palestinians.
"Amnesty International has repeatedly called on the Israeli authorities to release … Palestinians held in administrative detention, unless they are promptly charged with internationally recognizable criminal offences and tried in accordance with international fair trial standards," Ann Harrison, Amnesty International's interim deputy director for the Middle East and North Africa said in 2012.
Prisoners in Israeli control can be held without trial or charge for a six month period, which can be renewed indefinitely. This practice of 'administrative detention' is supposedly used by the Israeli military when it fears an immediate risk to security or wants to protect informants.
Palestinian authorities claim that some 800,000 Palestinians have been detained under Israeli military orders since the 1967 war, with an estimated 4,800 Palestinians held in Israeli jails today.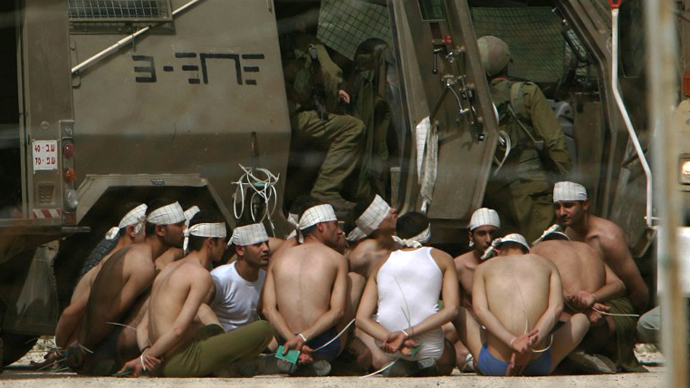 You can share this story on social media: