Palestinian workers forced off buses by Israeli police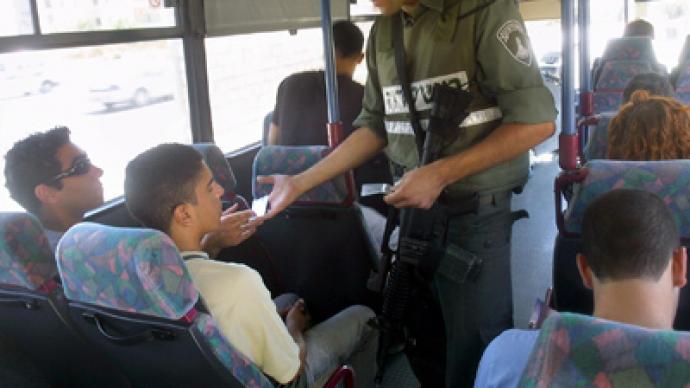 Police in Israel have allegedly begun ordering Palestinian workers off buses and are considering adding Palestinian only bus routes between the West Bank and central Israel at the request of Israeli settlers.
Some settlers in the West Bank believe Palestinians using the same buses as them pose a security risk, even though they have legal work permits allowing them to travel to work in Israel. Most of the Palestinians ordered off the buses were laborers working near Tel Aviv, according to media reports. Recently the Palestinian passengers were ordered off the bus near the settlement of Elkana, had to walk several kilometers to the nearest check point and then pay for a taxi home. "Friends at the check point told me that the same thing happened the next day. The police confiscated their ID cards, brought the IDs to the check point and the Palestinians had to get off the bus again," an Israeli army reservist told the Haaretz daily newspaper.The Israeli police said in a statement that the fact that a laborer has a legal work permit doesn't allow him to travel directly to the territories without going through an established check point.The police continued that it was necessary to "close the circle" to ensure Palestinians were not staying in Israel overnight, which requires a separate permit.The Transportation Ministry is also considering setting up Palestinian only bus routes to cater for the laborers, although such a move is expected to take several months before it comes into force. Ron Nachman, the mayor of Ariel, one of the largest settlements on the West Bank, wrote on his Facebook page that he is working with the police, army and transport ministry to stop Palestinians boarding buses. "All of them are working on this problem and we hope that they will soon find a solution to the reality that is bothering our people," he wrote. His posting was followed by a number of offensive comments. One of the commentators wrote "Finally you remembered that we have busses filled with Arabs," wrote one person.While others referred to Palestinian passengers as "terrorists" and "monkeys."The Israeli police recently noted that there may be an increase in terrorist attacks because of operation Pillar of Defense in Gaza.Last Wednesday a bomb exploded on a bus in Tel Aviv, wounding 28 people, including one seriously.
You can share this story on social media: