Obama has 'timetable' of ending US drone strikes in Pakistan - Kerry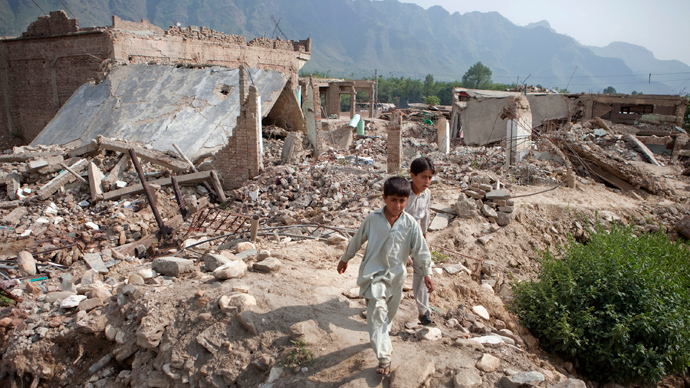 US President Obama has a timeline for ending US drone strikes, Secretary of State John Kerry announced live on Pakistani TV, hinting that they could end soon.
"The [drone] program will end as we have eliminated most of the threat and continue to eliminate it," Kerry said. "I think the president has a very real timeline, and we hope it's going to be very, very soon."

The Secretary of State met with his Pakistani counterpart, Sartaj Aziz, on Thursday, seeking to resume security negotiations.

Kerry announced during the press conference that the talks would cover all of the key issues between the two countries, "from border management to counterterrorism to promoting U.S. private investment and Pakistan's own journey to economic revitalization."

The US and Pakistan engaged in talks on a broad set of subjects in 2010 but were put on hold after a US airstrike on a Pakistani post on the Afghan border accidentally killed 24 Pakistani soldiers.

The suggestion marks the first time that a senior US official has indicated that there may be an end to the program. However, Kerry added that it would be as the military threat scaled back.

The strikes are aimed at militants in Pakistan's northwest, where the US claims Taliban and Al-Qaeda operatives pose a significant threat.

Leaked records published towards the end of July indicated that a large portion of those killed were civilians and children. The numbers showed a death toll of 746 people between 2006 and 2009, 147 of whom were confirmed as civilians. Of those civilian deaths, 94 were children, meaning at least one in five victims of US precision strikes was a civilian, and more than 12 per cent were minors.


Pakistan has repeatedly spoken out against the practice, with relations between them and the US becoming strained as a result. In June, the new government in Islamabad summoned a top US envoy who was given a letter of protest against drone strikes by the US military.
In May, a Pakistani court ruled that US drone strikes in its tribal regions should be considered war crimes, and that the government should use force to protect its civilians.