Tackling terrorism and drug trafficking focus of Pakistan-Russia talks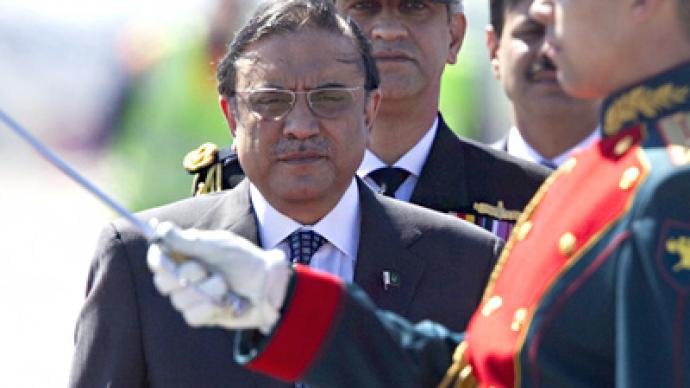 Common threats are set to get a joint response as Pakistani President Asif Ali Zardari and Russian President Dmitry Medvedev have discussed the fight against terrorism and drug trafficking in Moscow.
"We are interested in coordinating our efforts on the international arena," Dmitry Medvedev said at the meeting. "It is obvious that our countries face the same threats, under which I mean international terrorism."The Pakistani president said the countries' geographical locations determine the lines of the country's cooperation."Our countries are closest neighbors as we are located in one region and despite our borders not being adjacent our hearts are beating in unison," he said.The presidents have issued a joint statement that reads that their countries are determined to jointly fight drug trafficking at all stages, from production to sales.They also welcomed the signing of a cooperation agreement between the country's relevant authorities in October 2010.Security was not the only issue on the agenda, as the talks also focused on cooperation in trade, economy, science and technology."Development of Russia-Pakistan relations is sustainable and progressive. There is mutual interest of businesses, regional, public structures," Medvedev said."We only need to intensify economic cooperation. We have undertaken particular steps recently, but we need to do much more in various spheres," he added.The countries' bilateral trade has yet to reach the pre-crisis level, but it stood at almost US$363 million in 2010.At the meeting, Russia and Pakistan have signed a number of documents, including on cooperation in energy, transport and agriculture.The Pakistani president said that he supports Russian participation in project "CASA-1000" which will transport energy from Tajikistan to Afghanistan and Pakistan.He also backed Russian involvement with a gas pipeline that will connect Turkmenistan, Afghanistan, Pakistan and India.The Russian side said that it supports Pakistan, an observer state of the Shanghai Cooperation Organization, in becoming a member of the organization, which already includes Russia, Kazakhstan, China, Kyrgyzstan, Tajikistan and Uzbekistan. Following the meeting at the presidential level, the countries' government officials joined in the talks.
You can share this story on social media: