UK Chancellor proposes £25bn of new post-2015 election cuts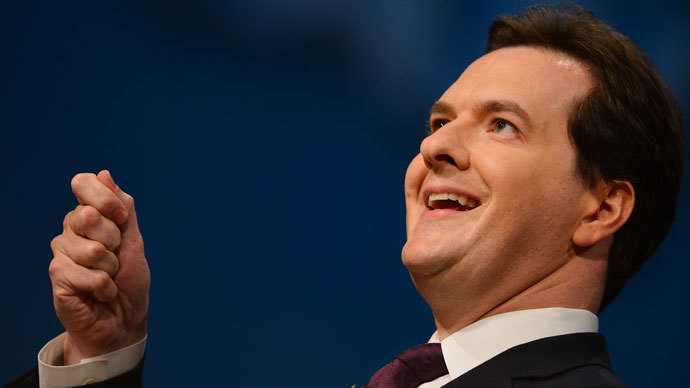 UK Chancellor George Osborne proposed a further £25bn ($41.1bn) in UK spending cuts, which he warned would be required in the two years after the 2015 election. The cuts would add to an existing £37bn, bringing Osborne's grand total to £60bn.
He suggested looking at the welfare budget and slashing housing benefit for under-25s
"The policy of reducing government spending will continue," Osborne stated. "We've got to make more cuts. That's why 2014 is the year of hard truths," Osborne said as he gave a speech in Birmingham.
"We do have to look at the welfare budget…that ultimately is where you can find substantial savings," he told BBC Radio 4's Today program on Monday.
Ultimately, the UK is set to see a massive £12 billion of welfare cuts, including the right of under-25s to claim housing benefit, stating such government support "cannot be protected".
"We've got to make more cuts. £17 billion this coming year. £20 billion next year. And over £25 billion further across the two years after. That's more than £60 billion in total," said Osborne, adding that they are essential while the economy is improving.
He also suggested that council housing be restricted to those earning less than £65,000 a year.
According to a 2011 Whitehall study, there had been, at that point, up to 6,000 people in social housing earning more than £100,000 per year. This was despite them being able to afford to rent their own place. Demand for council housing is high, but council houses are in short supply, according to housing and homelessness charity, 'Shelter'.
Osborne assured that pensioners would continue to receive support, saying that changing benefits would only slash "tens of millions" of pounds. The UK national debt will stand at £1.2 trillion by April.

"Do we say 'the worst is over, back we go to our bad habits of borrowing and spending and living beyond our means and let the next generation pay the bill," he questioned in Birmingham.

How his proposals will affect the outcome of the 2015 election remains to be seen. The latest Populus poll of UK voting intentions indicated on December 20 that Labour was soaring ahead with 40 percent support, while the Conservatives were lagging behind with only 32 percent.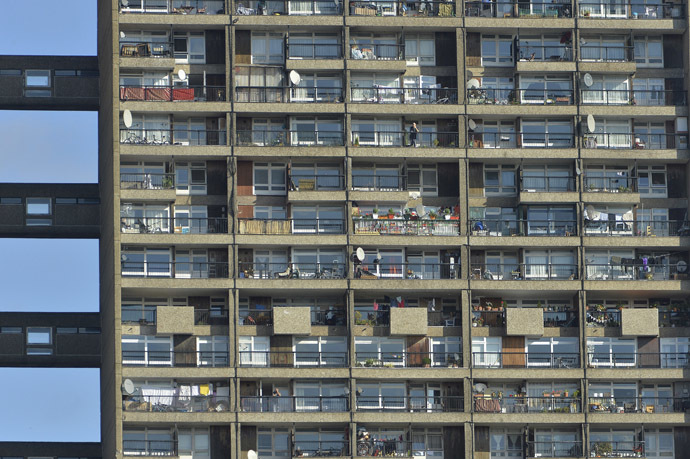 Labour Shadow Chancellor, Ed Balls, lambasted the proposal, adding that Osborne's preexisting targets have thus far been 'failures' and that Osborne should recognize this.

"George Osborne is desperate to stop talking about the cost-of-living crisis on his watch. But that won't stop working people from doing so as they are on average £1600 a year worse off under the Tories and prices are still rising faster than wages," he said in a statement released by the party.

Balls added that the social security bill has been rising under Osborne and that Osborne had been tackling it in the wrong way.

"The Tories should back our compulsory jobs guarantee for young people and the long-term unemployed. And in tough times it cannot be a priority to continue paying the winter fuel allowance to the richest five per cent of pensioners," he added. He proposed that Labour's plan for higher living standards for all and tackling the 'cost-of-living crisis' would be a better proposal.

"The best way to get it [the social security bill] down for the long-term is to get people into work and build more homes," he added.

Shadow chief secretary to the Treasury Chris Leslie accused Osborne of neglecting 'ordinary people'. "While millions of ordinary working people are worse off under the Tories, he and David Cameron are paving the way for yet another top rate tax cut for millionaires," he said.

Corporate tax avoidance has been a serious, ongoing issue in the UK. Mobile giant Vodafone paid no corporation tax across 2012, for the third year in a row. It emerged in April that the 'Big Four' UK accountancy firms stood accused of wielding "undue influence" over UK tax law, and of using insider knowledge from the UK Treasury to circumvent the complexities of the country's tax laws and helping their clients do the same.
You can share this story on social media: