Orthodox Church remembers Yeltsin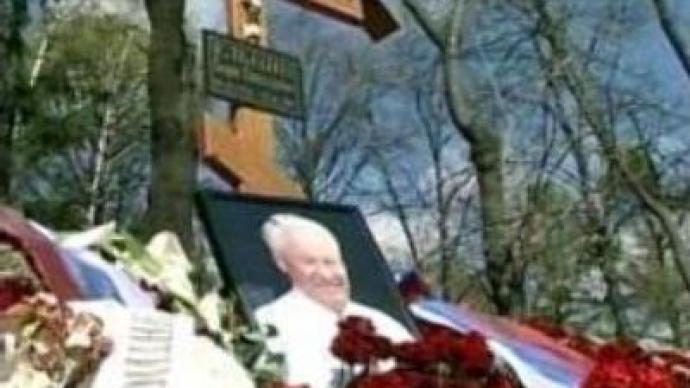 A memorial service for the late Boris Yeltsin has been held at Moscow's Novodevichy cemetery, marking 40 days since the death of Russia's first president, in line with Orthodox tradition.
Relatively few attended the ceremony. Only family and friends of the late Boris Yeltsin came to the cemetery. Yeltsin-era Premier Viktor Chernomyrdin, Ukrainian ex-president Leonid Kuchma and renowned soprano Galina Vishnevskaya were among them. The funeral service was held by the Head of the Russian Orthodox Church Patriarch Alexy II. Orthodox tradition has it, the soul of the deceased has 40 days for the last farewells on Earth and with those it loved before going to heaven. The ceremony was declared private but outside the cemetery a few supporters of the late President waited for their turn to approach the grave and pay their last tribute to Boris Yeltsin.
"Without Yeltsin, we wouldn't have had the Modern Russia. We'd have no independence, no new history, no freedom in Russia,"
stressed Vladimir Mikhailov.Anastasia Ivanova added that she
"came from another city especially to lay flowers on Yeltsin's tomb. He was a frank and a brave man, a resolute politician. I believe he didn't mean the wrong things he did."
Boris Yeltsin's role in modern Russian history is indeed remarkable. Elected as the first president of Russian Federation, he led it to independence. But the break-up of the USSR is still seen as tragedy by many Russians. Backed by democratic crowds in 1991 he foiled an attempted coup by Communist hardliners but in 1993 he used tanks against the mutinous parliament and used force to disperse street protests. He carried out vital economic reforms, transforming Russia into a market economy but millions of Russians saw their quality of life sharply fall and their savings vanish. According to Orthodox Christian beliefs on the 40th day after the death the soul of the deceased faces God and stands trial for all the earthly deeds. Buried as the first national leader, Boris Yeltsin will remain quite a controversial figure for many ordinary Russians but the only trial he will have to face now is that of history.
You can share this story on social media: