Orthodox Christmas unites thousands of Russia's people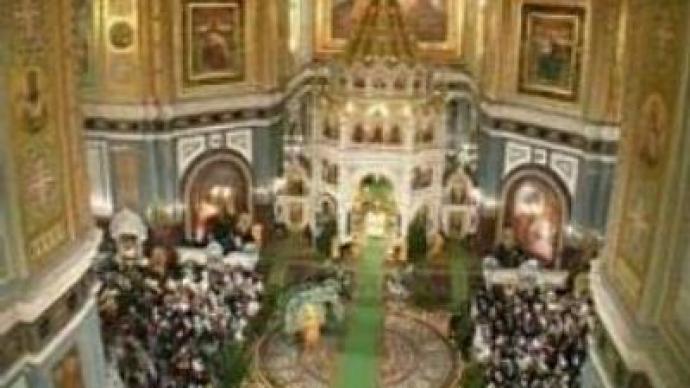 Thousands of people have taken part in special masses all across Russia to mark the Orthodox Christmas. Christians of other denominations celebrate on December 25, in accordance with the Gregorian calendar.
Meanwhile for Orthodox Christians January 7 is the first holiday of the year, when the Russian, Israeli and Serbian Orthodox Churches mark the birth of Jesus. Traditionally, Russia's main service is held in the Cathedral of Christ the Saviour in Moscow. Built in the 1860s, the Cathedral was demolished in 1931 under Stalin's rule. It was restored in the 1990s, and the first service took place on Christmas Eve in the year 2000.And this year around 5,000 people gathered for the service performed by Patriarch Alexy II. In his Christmas address the head of Russian Orthodox Church pointed out:
"The highest freedom the Lord granted us means that we are free to make a choice in accordance with moral principles in every situation we may face in our life. No matter how difficult our life is, we can always make a choice based on the GospelCommandments, Christian love to each other, kindness, peace and justice."
The Russian Patriarch also wished his parishioners and their families happiness and prosperity, adding:
"Strictly follow the Commandments of the Saviour, promote and encourage good deeds!"
More than 27,000 churches across Russia held similar services to mark the Orthodox Christmas.And in the New Jerusalem Monastery outside Moscow, popular with worshipers, Russian President Vladimir Putin gave his best wishes to everyone on this festive occasion. He mentioned the importance of the holiday, and called on people to turn their attention to those in need at this time.
You can share this story on social media: