Orsk fire could be covering up a murder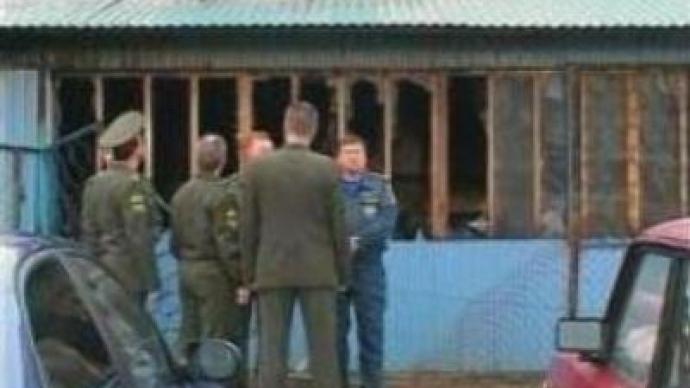 Prosecutors are investigating a possible arson attack that has left 10 people dead in Russian town of Orsk. Investigators are considering the theory that the café could be set ablaze in an attempt to cover up a murder.
The ten were in a cafe when it was engulfed in flames. The fire broke out in the early morning and quickly spread through the café. Eight fire crews fought the fire for an hour and a half before they were able to contain the blaze.Some witnesses say they saw two men throwing something into the cafe. They were also seen apparently jamming the entrance door closed.The fire spread quickly in the hangar-type building made mainly of metal and covered around 150 sq m. It is yet unclear how many people were trapped inside. Rescuers found 10 bodies in the building during the damping down.The 21-year old café owner and her boyfriend's bodies have been identified. It is suggested she may have been celebrating her birthday with her employees and friends. Prosecutors are treating the incident as a case of murder and arson.
"The evidence suggests that a crime has been committed",
Pyotr Lyashko from local Emergencies Office said.
"One of the bodies taken from the site of the fire had been stabbed".
Investigators are appealing for witnesses to come forward. Anatoly Kuznetsov, Deputy Prosecutor, informed that the investigators are seeking for any evidence that can be found.
"The Prosecutor's Office has opened a murder case. Investigators are working on the scene and in the surrounding area, going door to door looking for any witnesses and evidence that could help clarify the cause of the incident,"
he commented.Under the Russian Criminal Code, such crimes can receive a 20-year or a life sentence or capital punishment.Orsk is in the Orenburg region which borders the Republic of Kazakhstan.
You can share this story on social media: