Opposition protests in Belarus largely non-violent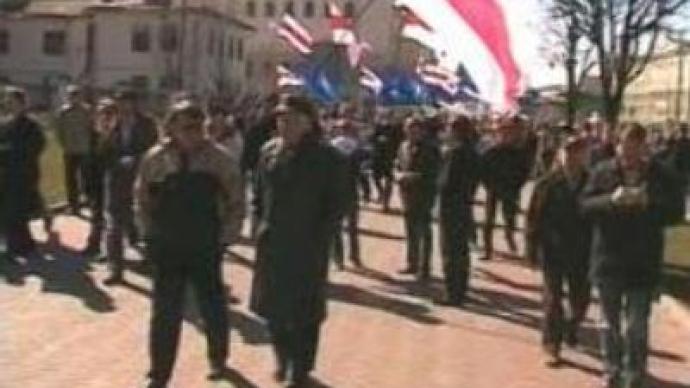 An opposition march has ended in the Belarusian capital, Minsk, without major clashes with police. March 25, unofficially known as The Day of Freedom, marks Belarus' first proclamation as a Republic, back in 1918.
Official estimates put the number of participants at under 5,000, but unofficial sources set the figure at 10,000.Police were not violent and used more strategic means, dividing and directing the crowd.However, closer to the evening a number of people were arrested after an attempt to hold an unsanctioned concert. Opposition leaders have demanded their release.Some Russian politicians, like Nikita Belykh from the Union of Right Forces (SPS), have taken part in the protest in Minsk.Politicians from the EU were also present in the Belarusian capital as the support from Europe generally give the opposition rally a chance to happen.The protesters in Minsk have also paid tribute to the EU's 50th anniversary celebrated these days.One of the opposition leaders in Belarus, Aleksandr Milinkevich, indicated the authorities generally tried to co-operate with the opposition in planning the march and other actions. The opposition becomes more recognized, Milinkevich stressed.Meanwhile in Moscow, protesters supporting the Belorussian opposition have been also celebrating The Day of Will. Over a dozen young Russian activists gathered in front of the Belarusian Embassy in Moscow. They carried flags and shouted slogans in support of the Belarusian opposition and condemned Aleksandr Lukashenko's government.
You can share this story on social media: