Opposition leaders reject posts in Ukraine government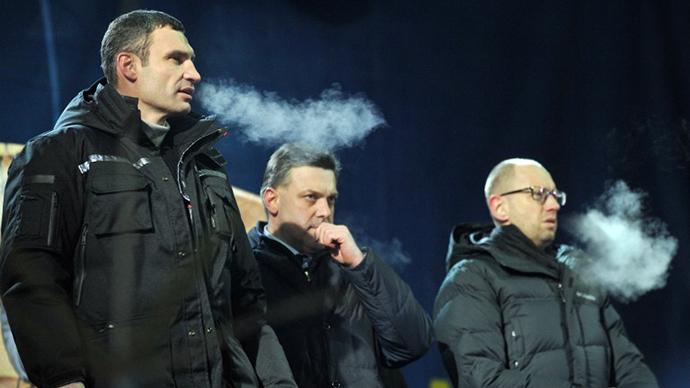 Ukrainian opposition leaders are not ready to accept the president's offer of top government positions. The sides have agreed on several concessions, including an amnesty for detained protesters in exchange for freeing government buildings and roads.
Batkivshina (Fatherland) opposition party leader Arseny Yatsenyuk has rejected the proposal to head the Ukrainian government, and UDAR party leader Vitaly Klitschko has refused the offer to become deputy prime minister for humanitarian affairs.

"Arseny Yatsenyuk didn't give a consent to head the government. Negotiations will be continued," the presidential press service reported on Tuesday night.

President Yanukovich earlier proposed the post of prime minister to Yatsenyuk, promising to dismiss current PM Nikolay Azarov and his cabinet from office.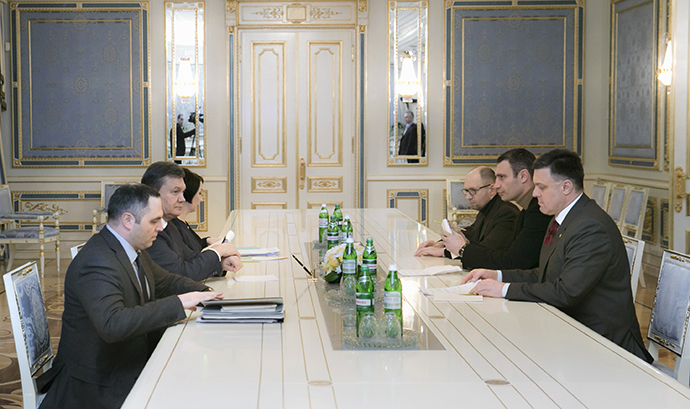 The Verkhovna Rada, Ukrainian parliament, is set to discuss the question of
"cabinet responsibility"
on Tuesday, Minister of Justice Elena Lukash confirmed. According to Ukrainian law, a vote of no confidence would lead to the dismissal of the government – one of the main demands of the opposition.
Meanwhile, Vitaly Klitschko said that he is not considering the possibility of becoming part of
"Yanukovich's government."
"It makes no sense to discuss my work in the government,"
Klitschko told his supporters, adding that when the question arose during the negotiations with the government, he
"immediately said that the issue was not worth discussing."

Klitschko also warned authorities against imposing a state of emergency, saying this will cause an escalation of tensions. Just hours later, the White House announced that US Vice President Joe Biden called Yanukovich to warn him of exactly the same thing.

"[Biden] underscored that the US condemns the use of violence by any side, and warned that declaring a State of Emergency or enacting other harsh security measures would further inflame the situation and close the space for a peaceful resolution,"
the White House said.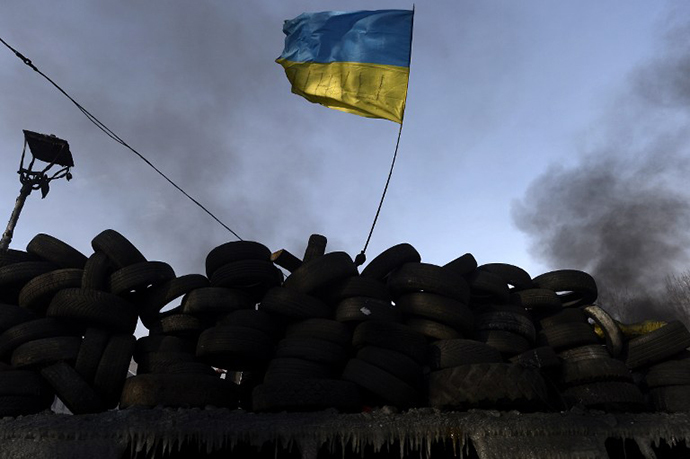 The same message was echoed by EU foreign policy chief Catherine Ashton, who is scheduled to arrive in Kiev on Tuesday night.

"I am alarmed by reports that the government is planning to declare a state of emergency,"
Ashton said.
She stated that such a move by Ukrainian authorities would create
"a further downward spiral"
that would
"benefit no one."
Ashton also urged opposition leaders to
"dissociate themselves from those who resort to violence."

Ukraine's government and opposition agreed to cancel anti-riot laws adopted by parliament on January 16, which established tough consequences for violations committed during mass unrest, Lukash said.

"The political decision was made to cancel those laws adopted on January 16, which caused numerous debates,"
the announcement read.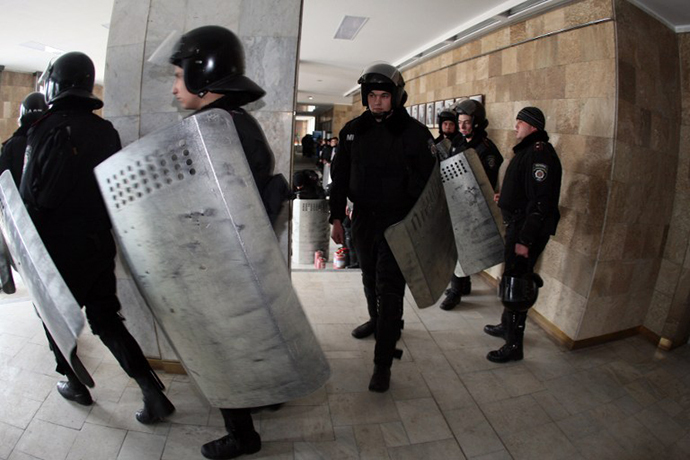 Lukash also noted that laws which did not cause a mass outcry will be further discussed during an emergency meeting of the Ukrainian parliament on Tuesday. She added that the legislature will be in line with the
"European level."
The two sides also agreed to a conditional amnesty for prisoners detained by police in the unrest, if protesters hand over control of all premises and roads seized in recent days.
"Our side has insisted on the following precondition for that law. The amnesty will take force only after all occupied buildings and roads are freed,"
Lukash said.
You can share this story on social media: