Opposition demands Kyrgyz president to quit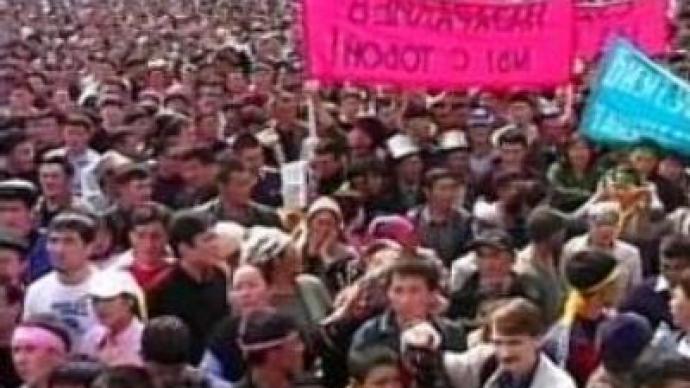 Kyrgyz opposition leader, Felix Kulov, has said that he intends to make President Kurmanbek Bakiev resign next week. This statement followed clashes on Saturday between opposition protesters and police in the country's capital.
"Yesterday the country was basically on the verge of regional clashes and has come to a point where we can almost call it a civil war. In connection with that the United Front, the movement for reforms, has taken a decision about changing their demands and to include a call for the immediate resignation of President Bakiev,"
said Felix Kulov, leader of the Ar-namys party.Kulov's threat comes after five days of opposition rallies.Several people were injured as clashes broke out on Saturday, including a journalist who was beaten because reports he was giving by phone, did not meet his attackers' approval.The opposition is blaming authorities for Saturday's disorder, claiming the crowd was provoked on purpose. Security has been tight across the city and some institutions have specially closed their doors.Most of the protesters are from other regions of Kyrgyzstan. According to the country's President, the United Front does not have mass support of the people. He says the Government has no fears that another revolution is in store.
"Absolutely not. It is out of question,"
says Bakiev.The fact that protesters have come from around the country to live on Central square has made a mark, and many of Bishkek`s residents are living their lives as usual. They are enjoying the warm weather, stores are open for business, and traffic is moving well. Some of Bishkek`s young people pay no attention what is going on the streets.
"It is better to go have fun in a club rather than waste time there for no reason. Whoever comes to power, it will still stay the same,"
says a young girl in a night club.
"We – young working people – we do not really take these rallies positively. They hinder with our work and feed negative emotions. I wish they found a more civilized way of negotiating things. We want peace,"
says a young resident of Bishkek.
You can share this story on social media: