Syrian opposition has no hope Assad will bring reforms – ex-ambassador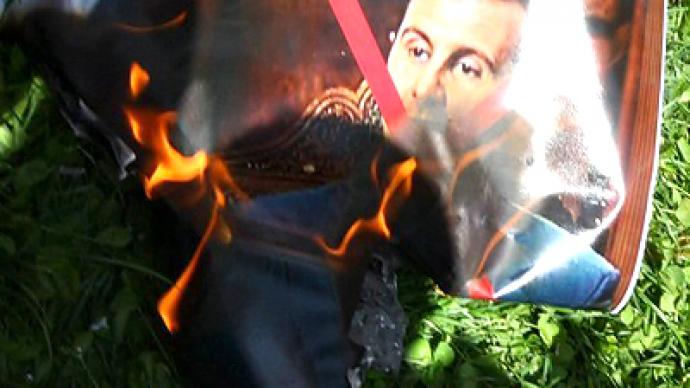 Amid massive protests, Syrian President Bashar al-Assad has called for a national dialogue and promised large-scale reforms for his people. However, his promise has been met with doubts both at home and in Europe.
Basil Eastwood, former British ambassador to Syria, believes that Assad still retains some popularity and trust in the big cities, "but in the countryside and amongst the intelligentsia there are now no hopes that he can bring about reforms."European Union representatives have also said that Assad's address and promises "cause disappointment", while the UN secretary general said on Wednesday that President Assad lacks credibility. France and UK promised last week they would bring a resolution condemning Syria to a vote at the UN Security Council, a move Russia strongly opposes. Eastwood argues that if Russia wants to have any influence in Syria, it should leave open the possibility of abstaining from the vote on the resolution. "At the moment, however, Russian opposition to a resolution of any resort criticizing Syria seems to be so vehement that the Syrian regime is in effect being given free run to do what they like without criticism from the Security Council," says Eastwood.  The country has come under increasing international pressure and sanctions over its brutal crackdown on the growing protest movement. Human rights groups say more than 1400 people have died since the protests began in March."With every day that passes, with every drop of blood that is shed it gets more difficult [to find a way to stop the bloodshed], because there is a tradition in that part of the world of vengeance, but so far the opposition activists at least are sticking firmly to the insistence that there should be no violence on the part of the activists," says Eastwood.The opposition members also said they do not want any foreign intervention, and at a conference in Turkey they came up with a proposal of a political change in the country, calling on President Assad to step down and the vice-president to hold elections on the basis of the revised constitution. "That is the start of a political discussion, if anybody wanted to take it up. But there's obviously no sign whatever of anybody in the regime wanting to take up that sort of idea at the moment," claimed Eastwood.Eastwood believes that at present Assad sees himself "in a battle with the dark forces of evil and probably regards himself as having no other option. But one has to hope that he can be persuaded to see that there has to be another way."Eastwood explains that when Bashar Assad became president of Syria, there were hopes that "somebody who had lived in the west would be a breath of fresh air." "Indeed there was, at one stage, a short Syrian spring, but he took over essentially as the one candidate who could ensure the continued perquisites of the Syrian power elite, and they, I fear, told him very shortly after he took over that the Syrian spring shouldn't go too far," explains Eastwood.