Allies start shifting operation leadership in Libya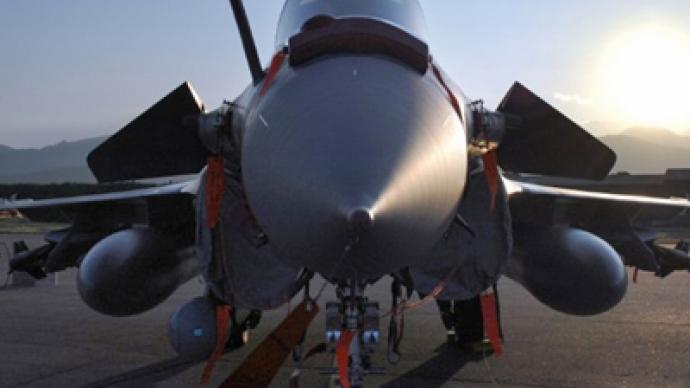 US President Barack Obama agreed with British Prime Minister David Cameron and French President Nicolas Sarkozy that NATO would play a key role in further enforcement of the no-fly zone in Libya.
NATO has so far been viewed as a military commander-in-chief only, as several alliance members like Turkey or the Arab League will scarcely acknowledge the organization as a political leader in Libya's operation, France pointed out.French Foreign Minister Alain Juppe said the foreign ministers of all the countries taking part in military action in Libya will hold a meeting in next few days to create an effective political structure for operations."Once we have this political structure… we will naturally use the planning and intervention capacities of NATO," he said as cited by Reuters.The UK is volunteering to take the interim role of political leader to steer the coalition's steps in Libya before the designated structure comes into being.NATO conceded its session on Tuesday to enforce an arms embargo on Libya. NATO warships will start patrolling the Libyan coast on Wednesday with this mission.The organization has also finalized plans to enforce UN-sanctioned no-fly zone, if required. However, the plan did not "take into account the political reality of having to reach agreement on whether to execute it," said a NATO official.The UN Security Council will discuss the latest developments in Libya in its Thursday session.
The operation in Libya is seen in the Arab world as an act of imperialism and any statements from the West opposing this will be considered as disinformation, so "Let's leave it to the Arabs to take care of their own bailiwick, and meanwhile those of us here in the US faced with a fiscal budget crisis are wondering how on earth we can afford another war, a third front when we cannot even afford basic social services for Americans," says Michael Hoffman, author and editor of the Revisionist History newsletter. "The rationale of protecting the Libyan people must be rejected because nobody's protecting protestors being killed through the Middle East, like in Bahrain or Gaza", says Hoffman, "and Libya has been singled out either because of oil or some aspect of geopolitics yet to be known.""And how do we know that the rebels that are fighting Gaddafi are going to be any better when we are dealing with a tribal situation," Hoffman pointed out and assumed that "If the US was going to intervene [in Libya], it should be with medical and humanitarian aid, and trying to bring both sides to the negotiating table, and stop using war as a means of foreign policy," adding that Russia and Germany had taken a more sensible approach to the problem.
Jason Ditz, the news editor of www.antiwar.com figures that the coalition has already gone well beyond the UN mandate of establishing a no-fly zone over Libya. "It seems like they have gone very hastily into this process," he said adding that "They just decided to start a war one day and they do not really know where to go from there.""The US administration is trying to give the appearance that they have the situation in hand, but of course it has been so hastily done and in such a slipshod manner that it is very difficult to argue that it is anything other than a terrible mistake," he ended.
The Arab countries' backing of the assault on Libya "is not really a NATO operation anyway", believes Junaid Levesque-Alam, writer and blogger at Crossingthecrescent.com. He also believes that "if this intervention can be as limited in scope and scale as possible, and if the Arabs can really take it up and handle it themselves, we will see the saving of the democratic movement [of rebellions]. But, of course, intervention always carries risks and may be well off the mark."
There can be no talk about any humanitarian mission in Libya, says Barah Mikail, an expert on Middle East, the coalition just uses it as a pretext to interfere in the Libyan crisis. But the confusion inside the coalition itself is so great that it is yet too early to estimate the operation as successful. Much depends on who will gain control over the events."Even though we talk more and more about NATO, we should not forget that the essential struggle from the diplomatic and military point of view is whether the United States or France will be able to take the lead. The essential point of what is going on is the struggle between the US on the one hand and Mr. Nicolas Sarkozy much specifically, on the other", says Mikail.Despite Washington's rhetoric of reducing the US presence in the Middle East country, Mikail does not believe that the US's role in the operation will diminish. "The US won't allow any other country and especially France to take the lead", says Mikail. "The US would prefer NATO to take the lead of this operation – because by connecting NATO to Libya they will be the first ones to tell NATO how to do things and how to work on the ground."
NATO has found itself in a tight place over the Libyan crisis, says Russia's Permanent Representative to NATO, Dmitry Rogozin, as nobody wished to accept the responsibility of continuing the military operation in the Middle East country. "Everyone realizes that it will be quite impossible to bring Gaddafi down without a mission on the ground," Rogozin was cited as saying by RIA Novosti news agency. Attacking Gaddafi's forces with air-strikes "will not help to achieve the goal, as all these forces have long ago relocated to towns and cities, so civilian casualties will be inevitable.""This is a stalemate situation, from NATO's point of view," Rogozin says. "Yesterday a decision was taken for the bloc to enforce at least one point of the UN Security Council's resolution – imposing arm supplies embargo on Libya, which rather resembles a naval blockade."
Coalition under fire for civilian deaths
The international community is quickly growing diverse in the estimates of the "Odyssey Dawn" operation results. In contrast to US and France's positive comments, Turkey has said the air strikes in Libya have already gone beyond what had been sanctioned by the UN Security Council. Russia and China are calling for an immediate ceasefire in the country by all the forces involved into the conflict."We are against excessive use of military force, and we are against the exacerbation of the humanitarian crisis, and we are against even greater casualties among civilians," a Chinese Foreign Ministry spokesman was cited as saying by the Associated Press. Meanwhile Rear Admiral Gerard Hueber, involved in enforcing the UN-backed no-fly zone over Libya has said that he has no reports of civilian casualties caused by coalition forces."There have been no reports of civilian casualties. Our mission here is to protect the civilian populace and we choose our targets and plan our actions with that as a top priority," he told reporters by phone on Wednesday from the command ship USS Mount Whitney.Washington sought to untangle itself from the Libyan crisis cobweb, with President Barack Obama announcing on Tuesday that the US has significantly reduced the number of military flights over Libya. He also added that the control of all the military operations in Libya will be transferred to the international coalition within a few days.US intentions were confirmed by the US Defense Secretary Robert Gates during his visit to Moscow. Gates had to back up Washington's continuous assaults on Libya, which resulted in civilian casualties, in response to sharp criticism from his Russian counterpart Anatoly Serdyukov. Serdyukov called for an immediate cease-fire by both Libya and coalition forces in order to prevent any further civilian deaths. "We urge all belligerent parties to do their best to stop the violence," Serdyukov said. "We believe that only a ceasefire and a dialogue between the belligerent parties would be the surest way to ensure the security of civilians."The Libyan crisis will also be included on the agenda of the Russia-NATO session in late March, where it will be discussed at the ambassador level.
Former British intelligence officer Annie Machon believes that the roots of the differences within the coalition lie in the long-standing inconsistency of Western policy towards Libya."With Colonel Gaddafi being a historical enemy of the west for many, many decades, suddenly he has been brought back into the international fold. There were lots of oil contracts and business contracts flowing out of Libya towards places like the US, the UK and France and Italy," she said."So, I think, they [the west] were torn for a long time and it is only really over the last weekend that they did a bit of a rush job to take the violence to the next stage and protect the rebels that they have been backing secretly for a couple of decades in the east of Libya," she added. "Different aims from different countries; different vested interests within Libya of the different countries, and also different histories are all playing a part in this model."
You can share this story on social media: