On-wheel Moscow: pray, learn, and eat en route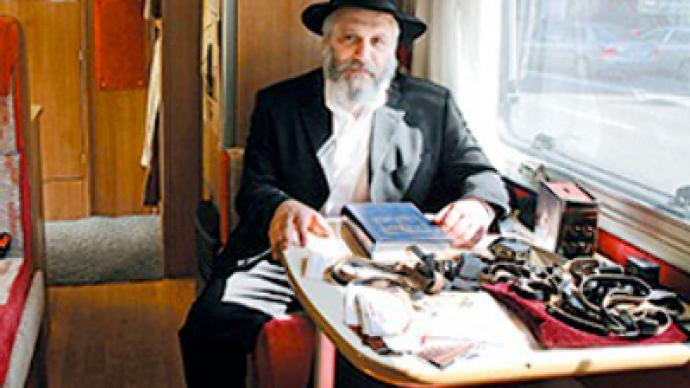 A mobile synagogue with two Rabbis on the job has started plying the most crowded streets of Moscow. It has joined other mobile attractions of Moscow, such as a mobile library, a tavern tram and "a nanobus".
The so-called 'mitzvah tank' is striving to raise religious awareness among Moscow's Jewish people.
In this case, 'tank' is not a military term at all, but the abbreviation of the three sections of the Talmud – Tohorot, Nezikin and Kodashim.
The mobile synagogue is easily recognizable, as its doors are covered with specific pictures, such as Torah scrolls and the menorah – a seven-branched candelabrum which has been a symbol of Judaism for almost 3,000 years.
The rabbis ask passers-by if they are Jewish and, in the case of a positive answer, they offer people to take a ride during which one can put on tefillin (a phylactery required for the recitation of daily prayers) and read Shema prayer, which is considered the most important in Judaism.
All comers can climb aboard and tour Moscow's Jewish places, hear about the technology of making Torah scrolls, tefillin and mezuzah (a piece of parchment inscribed with verses from the Torah), or take an express course of reading Hebrew.
The rabbis say that one will know letters and get reading skills in just an hour and a half's time.
Those interested can even order the "mitzvah tank" to come to where they are, and to ask for a consultation on almost any matter, including the ceremony of circumcision, Bar and Bat Mitzvah (celebration of the coming of age) and huppah (the Jewish wedding canopy).
"Everything is like in a synagogue here," the chairman of Russia's Jewish Community Federation Daniil Yakovlev said, quoted in Russia's Izvestia newspaper. "One can read prayers and talk to Rabbis."
The idea itself is not new. Such mobile synagogues have functioned in many capitals of the world from as far back as 1974.
In 1991 the "mitzvah tank" was crisscrossing Moscow as well – but not for long, as the situation in the country at the time was uneasy.
And recently it was decided to resume its activity within the so-called Boulevard Ring in the very center of Moscow, at the initiative of the leader of Russia's hasids, Berl Lazar.
In the Russian capital one can catch up, not only with the mobile synagogue, but with a mobile reading room and a mobile classroom as well.
The latter is called "a nanobus" and is covered with physical and chemical formulae. It travels from school to school, and the most inquisitive can find out what nanotechnology is and even watch some experiments inside the "nano" vehicle.
Museums are not lagging behind, with one train called "Watercolor" driving to and fro along Moscow's Arbatsko-Pokrovskaya metro line route. It boasts replicas of famous paintings from the Russian Museum.
But certainly one of the most popular on-wheel places in Moscow is a tavern tram called "Annushka", in honor of the once famous tram A-route that was launched in the Chistye Prudy area back in 1911. The modern "Annushka" has already been driving the same route for about ten years. It offers people tasty dishes, to say nothing of the sightseeing tours carried out each Friday.
You can share this story on social media: