Old Testament to be put behind bars?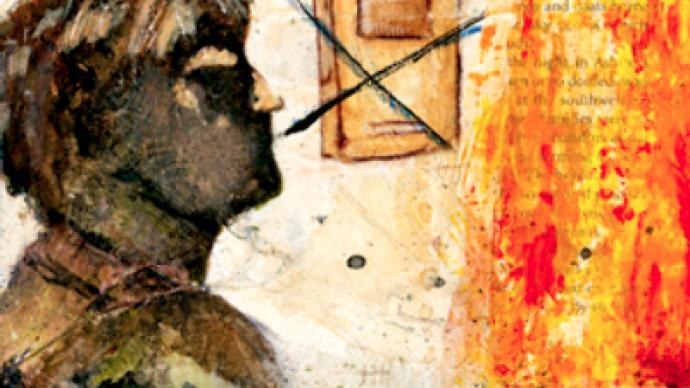 A scientist has sent a statement to the Prosecutor General's office in Stavropol, Southern Russia, demanding the Old Testament be declared extremist literature.
As Komsomolskaya Pravda newspaper reports, Anatoly Dolzhenko presented an 11-page document to the prosecutor's office on Friday, also demanding that those who distribute the book should be held criminally responsible.
Dolzhenko has also managed to gain the support of arbitrator and organized crime and corruption methodologist Evgeny Trufanov.
"We want the Old Testament on the basis of the quotes described in the statement which call for violence, genocide and promote brutality to be officially declared literature of extremist content igniting ethnic discord," said Trufanov.
If their request is refused, the appellants intend to go to the European Court of Human Rights.
In the declaration a few quotes have been listed that the appealing party has found to be particularly appalling. One in particular reads:
"Do not give away your daughters in marriage to their sons, or take their daughters for your sons. Do not seek a treaty of friendship with them at any time."
Dolzhenko said that he acted on call from an internet resource "Slavic Internet Portal Darislav" to appraise such Jewish books like the Bible all the way to the Prosecutor's office.

Commenting on the initiative, the press-secretary of the local diocese Evgeny Bronsky said that the "Old Covenant world is a world where people have renounced god, renounced a sense of values, of sin, a world where paganism has sacrificed infants for soulless gods."
"To stop this evil, to not allow humanity to die was only possible then by force. This was a treacherous path of the Lord in a world, penetrated by evil, in a world, devoid of God's grace, a path connected with much suffering. But this path brought all of humanity to the good news of Christ, to the New Testament," said Bronsky.

The Federation of Jewish Communities of Russia called the matter "absurd".
"It's quite absurd, comical and stupid to take the Lord God to Court. This case is about 3000 year old events, when monotheism simply did not exist and if someone gets the idea, using these views, to teach the rules of modern warfare or modern behavior towards people of different faiths, then this person will be declared demented including by those from his own denomination," said the head of public relations of the federation, Borukh Gorin.
You can share this story on social media: