Massive Siberian oil spill leaves thousands without water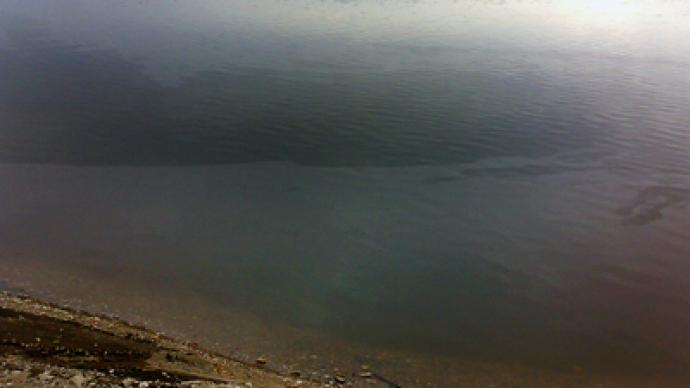 A giant oil slick is flowing along Russia's Angara river, in southeastern Siberia. Authorities have declared the situation an emergency, with some 80,000 people stranded without water.
Reports say the slick is about ten kilometers long. Emergency services are trying to stop the oil from making its way any further, but have not succeeded so far. The concentration of oil in the water still exceeded the norm by several times on Thursday. About two tons of diesel oil spilled into the river on Wednesday as a result of an accident caused by illegal siphoning, officials say. 
Cashing in on suffering
The incident disrupted the local water intake, which supplies water to three towns, leaving about 80,000 people without water.Local authorities in the affected towns had to close schools and kindergartens in the area, though hospitals are working as usual.The centralized water supply can be restored only after probes show that the oil concentration in the water is lower than the maximum permissible concentration.Meanwhile, there are reports of merchants trying to cash in on the catastrophe by doubling and tripling prices for bottled water.Authorities urged them not to turn a profit on the ecological disaster, and said they would closely monitor the situation to eliminate such cases. Forty tons of free bottled water have been delivered in the affected are as emergency workers try to restore the intake's ability to operate.
Threat of ecological catastrophe
The oil leak may become a serious ecological problem if urgent measures are not taken to deal with the spill, WWF Russia official Aleksey Knizhnikov told Ria-Novosti.The incident at the Sayano-Shushenskaya power plant revealed that Russia's emergency services were not ready for an oil spill in the river, because it is a rare case, he explained."Unfortunately no recovery operations can fully clear the river from the oil spill; floating barriers will just localize between 20 and 30 per cent of the spill," he said, adding that time is working against cleanup teams.
You can share this story on social media: