Oil war on fields of Libya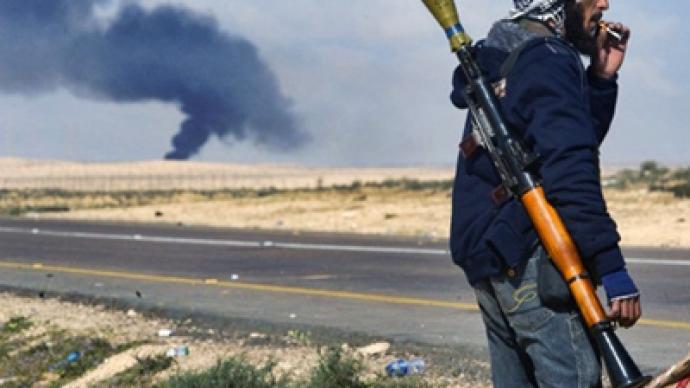 The war in Libya is now raging on the country's oil fields. British planes have reportedly bombed the major Libyan oilfield Sarir. This follows attacks by pro-Gaddafi forces on oil reservoirs to prevent rebels from selling the crude.
British aviation hit the Sarir oilfield on Wednesday, in an attack which killed three civilian guards and injured an unknown number of other workers, Reuters news agency reported. The agency quoted the Gaddafi regime's deputy foreign minister Khaled Kalim as saying that the attack had damaged a pipeline connecting the oilfield to the Mediterranean port of Hariga. The source offered no evidence that the planes that hit the target were actually British.However, NATO rejected the accusations that its air strikes caused a fire in the Sarir oil field. According to Reuters, NATO officials said the alliance had not carried out any strikes in the area, and Gaddafi's forces are to be blamed instead.Rebel forces announced on Wednesday that attacks of pro-Gaddafi forces on the Sarir and Misla oilfields have lead to a virtual halt of oil production in the area. The oilfields are part of the Sirte Basin region, containing 80 per cent of the country's oil. The announcement came as the rebel's first tanker with oil left the city of Tobruk to be exported. The tanker, named the Ecuador, is heading for China, AP news agency reported. The rebels plan to use the profit to pay for food, arms and medicine for their forces. "I think we will not depend on oil revenues in the coming stage because our production has been affected in this crisis," the rebel's spokesperson Abdel-Hafidh Ghoga was quoted by Al Jazeera television as saying. "Colonel [Gaddafi] seeks to deprive us of even this by hitting the oil fields that feed this port. This is our wealth and we have to protect it."He added that the rebels can no longer sustain the 100,000 barrels a day they had been producing. The rebels still have about a million barrels in storage in Tobruk, the television network reported. On April 1, the Libyan opposition agreed to sell oil through Qatar in order to sustain its troops fighting against Muammar Gaddafi. Qatar has acknowledged the Libyan opposition as a legitimate authority.  Libya started extracting oil in 1959 and has been exporting it since 1961. In 2009-2010 the country produced about 1.56 million barrels daily, selling it to a number of European countries, the United States, and China. Oil profits constituted 95-97 per cent of the Libyan export, being the main source of the country's financial reserves. Since the beginning of the fighting in Libya, most oil export activities have stopped in Libya due to infrastructure damage. Rebels have captured a number of oilfields in the east of the country.
You can share this story on social media: