Oxford sued for wealth discrimination: Applicant can't afford 'luxury lifestyle'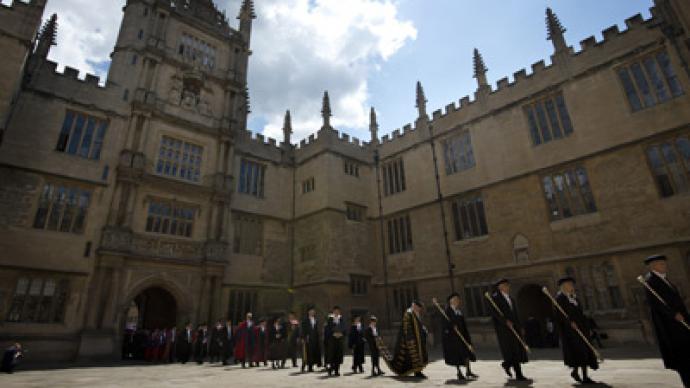 One of the world's most prestigious universities is being sued for discriminating over applicants' financial standing. A would-be student has claimed the UK's Oxford rejected his application because he "cannot afford to dine" with wealthy classmates.
Damien Shannon, a 26-year-old seeking an MSc in economic and social history, was accepted by St. Hugh's college. However, he was unable to enroll because he could not provide proof of "sufficient funds," and is taking Oxford to court over the matterShannon claims that the college denied him entry not because he was unable to pay for his tuition or living costs, but because he is not wealthy enough for fancy dining and socializing.Oxford policy requires that every student pay 12,900 pounds (approximately $20,000) a year for living expenses. That sum is comprised of average rent costs, utilities, food allowances and other expenses.In a blog post republished by the Guardian, Shannon – who did not have enough money to meet the college's living expenses requirement – said he was ready to provide the admissions office with information showing that his rent is below average, and that he therefore has sufficient funds. However, his application was still denied."Oxford appears to be saying that those who cannot afford to dine within their colleges and socialize are not suitable for admission," Shannon said, accusing some Oxford staffers of elitism, privilege and exclusivity.St. Hugh's defended its decision to reject Shannon due to his financial standing, saying that such policies are necessary to ensure that students have enough money to complete their studies."The requirement that postgraduate students provide a financial guarantee in order to take up their course place at the University of Oxford is made clear to potential applicants. The university and college have both made fundraising for postgraduate scholarships a key priority," a college spokesperson said.Oxford has hired a QC to defend itself in Manchester county count; Shannon will represent himself in the suit, and will likely go bankrupt if he loses the case.
You can share this story on social media: