Four arrested as police clear Occupy tent camp in DC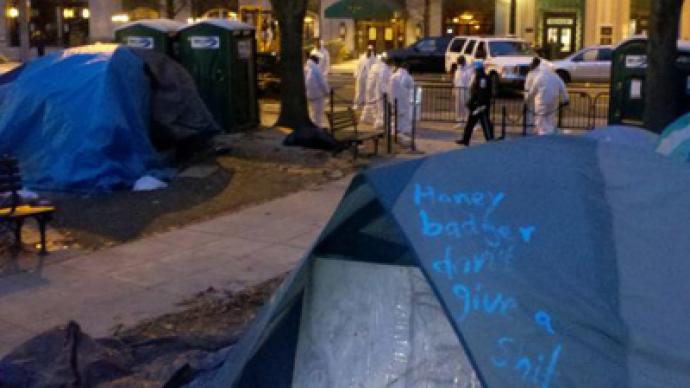 Four people have been arrested as police in riot and hazmat gear are taking down tents in the Occupy camp in DC. It is one of the movement's last sites in the country.
Officers arrived at McPherson Square early on Saturday, five days after the National Park service began enforcing a ban on camping. The federal park was cordoned off with barricades while a helicopter hovered overhead. Just prior to the police arriving, protesters began making sure everyone in the park was awake. The DC police removed the so-called 'tent of dreams', which was a tarp draped over the statue of Gen. McPherson, and began a compliance check of the remaining tents. Maintaining that they were not "evicting Occupy DC protesters, just enforcing a ban on camping in public parks' , the officers, wearing protective hazmat suits, started packing up bedding and tents and putting them into bin bags. Protesters, however, say the ban amounts to an order to quit the site. The movement's legal team said a number of people have already been detained by the police after refusing to leave. Fewer than 100 people are occupying the area that is maintained by the park service.
You can share this story on social media: