Occupy unmoved: Washington protesters to defy evictions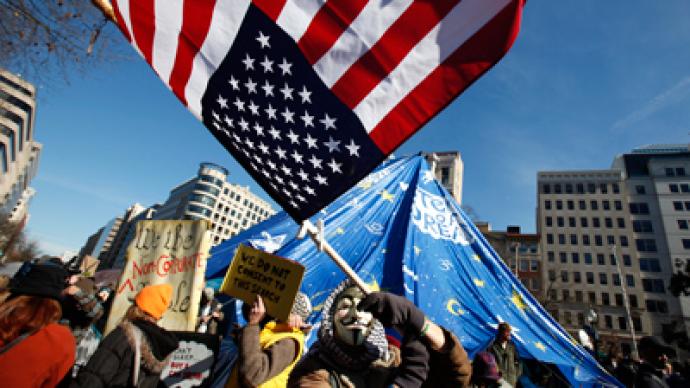 Anti-corporate protesters from the Occupy Wall Street movement in Washington are gearing up for tough police action. They have defied a deadline laid down by local authorities for removing camping equipment from the city's squares.
As RT's Liz Wahl discovered, the activists are remaining loyal to the cause. The national park service has repeatedly posted notices informing protesters that they can no longer camp out here. That means they have to get rid of sleeping bags and any other material which allows them to live here. The deadline passed at noon on Monday. According to the mandate, tents can stay but their doors must remain open, proving no one is living in them.The notice warns protesters that anyone violating the rule will be subject to arrest. The tents are the signature structure of the Occupy Movement, which began in October on New York City's Wall Street.However, Occupiers have sent out a clear message that they are not giving up the fight. They have erected a massive tent over the statue at McPherson Square in response to the anticipated eviction by park police.At McPherson Square, protesters have been occupying the park since October, with about 100 tents pitched here throughout the demonstration. "This is our Tent of Dreams. We want to be able to sleep here so we can dream of a better world, where everyone has access to healthcare, education, and where the banks nolonger have control of the political system," said Occupy DC Organizer Travis McArthur.Another protester told RT, "The Federal Government, and the political leaders and Wall street, they were all tone deaf, they could not hear this so the Occupy Movement has given them a hearing aid, and they are hearing our message loud and clear now."So far, the police presence has been sparse, with no reported arrests.Officers stood mostly on the sidelines, refusing to answer questions from the media. "The purpose of this was to unite us in this space, so if they want to arrest one of us, they have to arrest all of us or none of us," says McArthur.However, others fear that police would wait until late night hours to start arresting protesters in the absence of media cameras.
You can share this story on social media: