Chemical reaction: Obama warns Assad of 'red line' consequences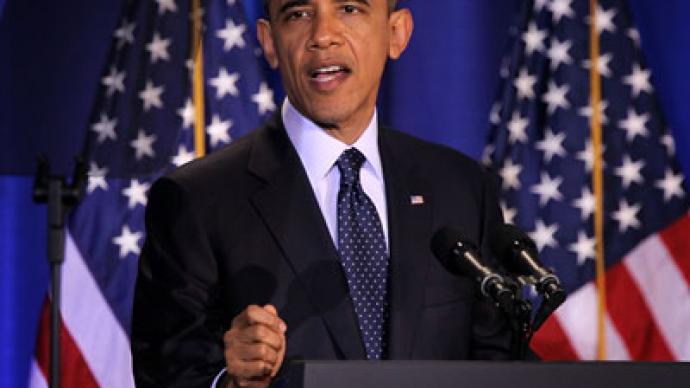 The Obama administration has threatened Syria with 'consequences' if it uses chemical weapons against the population. This comes amid a fresh wave of US intelligence reports suggesting that Syria is preparing its chemical weapons for deployment.
"The use of chemical weapons is and would be totally unacceptable," President Barack Obama said during a speech at the National Defense University in Washington. He added that he wants to make it absolutely clear to "Assad and those under his command" that if they "make the tragic mistake of using these weapons" there will be consequences.Earlier this day, US Secretary of State Hillary Clinton issued a similar "strong warning" to the Syrian government reiterating the president's declaration that the use of chemical weapons against the Syrian people will be "a red line for the United States.""Once again we issue a very strong warning to the Assad regime that their behavior is reprehensible," Clinton said on Monday. "I'm not going to telegraph in any specifics what we would do in the event of credible evidence that the Assad regime has resorted to using chemical weapons against their own people, but sufficing to say that we're certainly planning to take action if that eventuality were to occur," she added.White House Press Secretary Jay Carney also said that "any use or proliferation of chemical weapons by the Syrian regime" would cross the red line, adding that the US administration is "concerned" that Syria's "increasingly beleaguered regime" might be considering the use of chemical weapons against the Syrian people after "having found its escalation of violence through conventional means inadequate."In response to the threats, the Syrian Foreign Ministry has issued a brief statement saying that Damascus will not use chemical weapons, "if they were available, under any circumstances against its people." The ministry also stressed that Syria has stated repeatedly that it "will not use these types of weapons."In July, Syrian Foreign Ministry stated that "any chemical or bacterial weapon will never be used – and I repeat will never be used – during the crisis in Syria regardless of the developments." Foreign Ministry spokesman Jihad Makdissi assured at the time that all of these types of weapons are in storage and under security and the direct supervision of the Syrian armed forces and "will never be used unless Syria is exposed to external aggression."
Anonymous reports of suspicious activity
Meanwhile, several senior US defense officials – all on condition of anonymity – claimed that Syria has begun mixing chemicals that can be used to make the deadly sarin gas."We've picked up several indications which lead us to believe that they're combining chemical precursors," one unnamed US official told AFP, adding that the operation was apparently aimed at making sarin.A report by Wired cites another unnamed US official "with knowledge of the situation," who said that the sources in the Syrian military confirm that the preparations "have gotten to the point where they can load it up on a plane and drop it."The Associated Press earlier cited another official who said on condition of anonymity that US intelligence officials had detected activity around several known Syrian chemical weapons sites in recent days.Concerns about the potential use of chemical weapons in Syria have arisen on the same day the UN announced it is sending all non-essential international staff out of Syria and halting aid missions outside Damascus.
Pretext for intervention?
This is not the first time unusual movements of stockpiles have been detected in Syria. In September, US Defense Secretary Leon Panetta noted that intelligence said the Syrian government had moved some of its chemical weapons. Panetta though added that this might have been done to safeguard the chemical stockpile against rebel forces.But this time, some analysts believe, the revived concerns of chemical weapons use might be used as a pretext for a "humanitarian intervention" in Syria. "This issue of the chemical weapons is useful to prepare the ground for a humanitarian type of intervention which may include some strikes eventually," political analyst Paolo Raffone told RT. "But mostly I doubt strongly that Western countries would send soldiers on the ground in Syria."Government and business consultant Christoph Horstel believes that the main concern of the Syrian government right now is that the opposition fighters, whoever they are, do not lay their hands on the Syrian chemical weapons stockpile."What Syria is certainly doing is trying to make sure that no foreign agent, how well equipped ever, can get into the possession of these weapons," Horstel told RT. "Of course, they are not planning to use them against foreign enemies in their territory. No way. All these things are inventions of foreign and Western propaganda."Russia is meanwhile concerned that the militarization of the Syrian conflict is in full swing as large supplies of weapons to the Syrian opposition continue despite an arms embargo against the war-torn country. These supplies include "rather dangerous" arms, such as Stinger missiles, and hamper all efforts which "should be aimed at conciliation, and work with all the opposition groups," Russia's Deputy Foreign Minister Mikhail Bogdanov said in an interview with Itar-Tass.Russian President Vladimir Putin has said that while Russia cannot give any guarantees on the Syrian leader's intentions, it shares international concern over the humanitarian situation in Syria and the wider region. Putin also added that the possible placing of Patriot missiles along the Syrian border in Turkey will not in any way add to stability in the region.
You can share this story on social media: