Obama's turn to sign New START treaty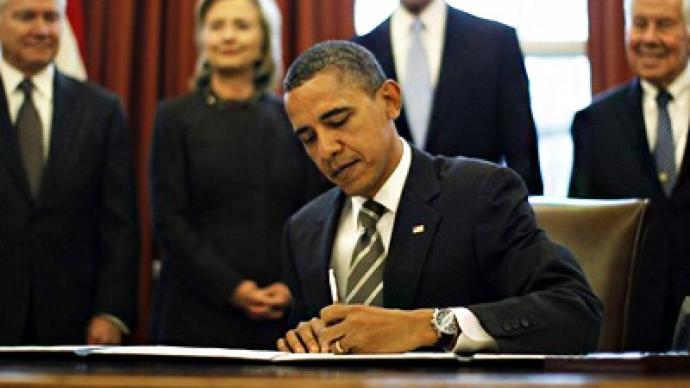 A new nuclear arms reduction treaty between Russia and the US is closer to coming into force as Barack Obama signs off the ratification document in the Oval Office in Washington DC on Wednesday.
The US president was joined by the top members of his administration, including Vice President Joe Biden, Secretary of State Hillary Clinton, Secretary of Defense Robert Gates and others. The formal exchange of so-called "instruments of ratification" – signed papers – will put the agreement into effect. Russian Foreign Minister Sergey Lavrov and Clinton are set to make the exchange on Saturday at the Munich Security Conference.Russian President Dmitry Medvedev signed the ratification bill on January 28 after it was approved by both chambers of the Russian parliament.The pact with the US provides for the mutual reduction of deployed nuclear warheads and delivery weapons over the next seven years. The deal may be extended on the agreement of both parties.The New START treaty is believed to be a step toward a "reset" in relations between Russia and the United States.The deal replaces the 1991 START treaty, which expired in December 2009. Presidents Obama and Medvedev signed the new agreement last April in Prague.
You can share this story on social media: