Obama called a Jew-hater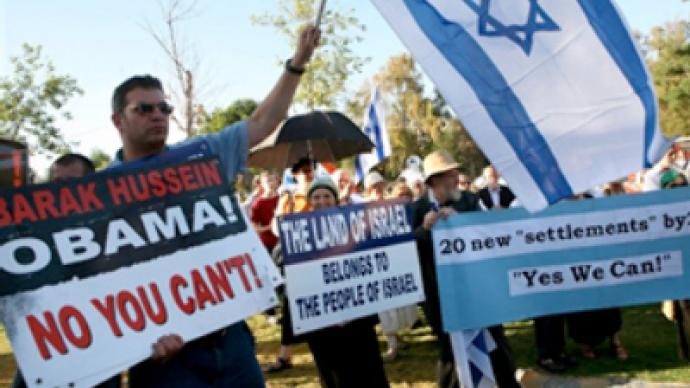 A campaign of defamation against U.S. President Barack Obama was launched by far-right Israeli activists Thursday, in anticipation of the president's outreach to the Muslim world in his speech in Cairo.
A poster circulated by one group showed a montage of Obama in Arab headdress along with the slogan "Barack Hussein Obama; Anti-Semitic Jew Hater." An identical montage with Israeli Prime Minister Yitzhak Rabin in Arab headdress had been carried by demonstrators shortly before his assassination by a right-wing Israeli extremist in 1995.
In a demonstration by 100 demonstrators in front of the American consulate in Jerusalem Wednesday, a less provocative placard was flaunted – "Barack Hussein Obama: No You Can't", a play on his election campaign slogan, "Yes We Can". The placard referred to his call for a freeze in Israeli settlement activity.
The fact that such a campaign was being launched even before Obama gave his speech reflects, albeit at an extreme level, concern in Israel that the American president may be turning away from Washington's long-standing alliance with Israel, in order to restore its standing in the Muslim world. Pressure on Israel for a total construction halt in the West Bank settlements is seen as possibly presaging a diktat on more substantial issues, like Jerusalem and final borders, in an American effort to shore up its credibility with the Arab world.
Paradoxically, the assault on Obama by extremist circles in Israel and their focus on his middle, Arabic, name will undoubtedly play well for the president in his effort to connect with the Islamic world.
Israeli Prime Minister Benjamin Netanyahu has pledged to Obama to demolish a score of unauthorized settlement outposts on the West Bank. Similar pledges have been made by Israeli leaders in the past, but on the few occasions when outposts have actually been demolished, settlers immediately restored them. This happened again Tuesday, when the army dismantled two small outposts and settlers erected two others elsewhere, while vowing to restore the dismantled outposts as well. Settler activists say they will not permit a repeat of the evacuation of settlements like the one from the Gaza Strip three years ago. "There are many young people still dragging around the trauma of (the Gaza evacuation) and they will not let it happen again," said activist Itai Zar. It is believed that a major confrontation between settlers and security forces over the illegal outposts is inevitable if Netanyahu hopes to maintain any political footing in Washington. Such a confrontation would involve a bitter struggle.
Apart from the illegal outposts, there are 120 settlements on the West Bank, authorized by previous Israeli governments, with a population approaching 300,000 – five percent of Israel's total population. Palestinians in the West Bank number some 2.5 million. Israel has long-since stopped building new settlements, but Netanyahu says that it is "unrealistic" to prevent new schools or homes for young couples being built in existing communities. "Israel cannot freeze life in the settlements," he said. Obama is evidently insisting on the freeze in order to demonstrate to the Arabs his readiness to impose his will on Israel and to serve as an honest broker. There are many on the Israeli left who applaud this approach and see it as the only way to find a way out of the interminable confrontation with the Arabs.
If Netanyahu gives in on the settlement freeze to the Americans, he faces the departure of right-wing parties from his coalition government. In that case, he will have little alternative but to invite the leader of the centrist Kadima Party, Tzipi Livni, to join the government, or face new elections. Her far more conciliatory positions towards the Palestinians, however, would be difficult for him to swallow.
Israeli officials say that Obama is reneging on an agreement reached by Jerusalem with his predecessor, George W. Bush, by which Israel would be permitted to meet the needs of "natural growth" within built-up areas of existing settlements, without extending the settlements further onto Palestinian land. It was on the basis of this understanding, the officials say, that Israel refrained from building new settlements on the West Bank, and that it undertook the removal of all settlements from the Gaza Strip.
Abraham Rabinovich for RT
You can share this story on social media: