Bat diplomacy: Turks see red in Obama's dubious photo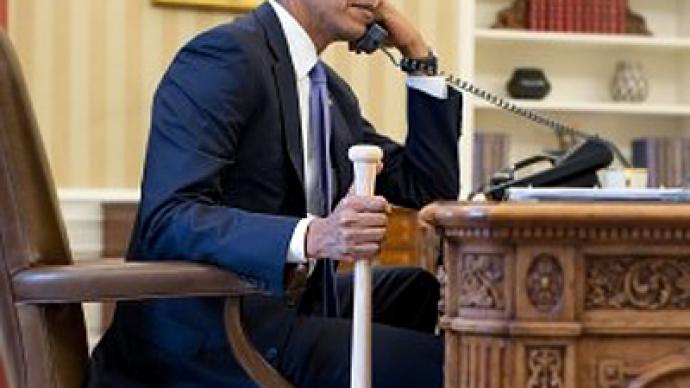 Holding a baseball bat in your hand while talking on the phone about a delicate international issue means you really like the person you are talking to. At least, so says the President of the United States.
The White House scrambled to explain the meaning behind a photo it posted online of President Obama holding a wooden club associated with either a popular American sport or mob violence, depending on personal preferences.The US President held the bat as he chatted on the phone with Turkish Prime Minister Recep Tayyip Erdogan on Monday. The two were discussing the ongoing violence in Syria, in which both America and Turkey are backing the anti-regime opposition forces.Reporters bombarded White House secretary Jay Carney on Monday with questions over possible hidden meanings in the photo of the bat-wielding Obama. Carney explained the photo by saying the president was a baseball fan and avid supporter of the Chicago White Sox.
Turkish politicians were quick to seize on the picture and level harsh criticism at Turkey's head of government."The photo reveals from whom our Prime Minister receives orders to rule the country," said Metin Lutfi Baydar, a Turkish parliamentarian and member of the Republican People's Party, the country's main opposition party. Legislator Umut Oran called the photo "an implicit insult to Turkey and its citizens," Reuters said.Some newspapers took a more lighthearted view: "Our Prime Minister needs to hold something in his hand as he's calling Obama," wrote Hurriyet columnist Ahmet Hakan, suggesting that Erdogan respond by holding a slipper, belt or rolling pin.The White House released a statement on Friday saying the photo was meant to "highlight the ongoing close relationship" between Obama and Erdogan: "The president cares highly about the partnership and friendship he has with Prime Minister Erdogan on a series of important issues [the] U.S. works on with Turkey."The bat in the photo was a gift to the US president from American baseball legend Hank Aaron, the statement said.
You can share this story on social media: