Merkel ally blasts US assurances on spying as 'insufficient'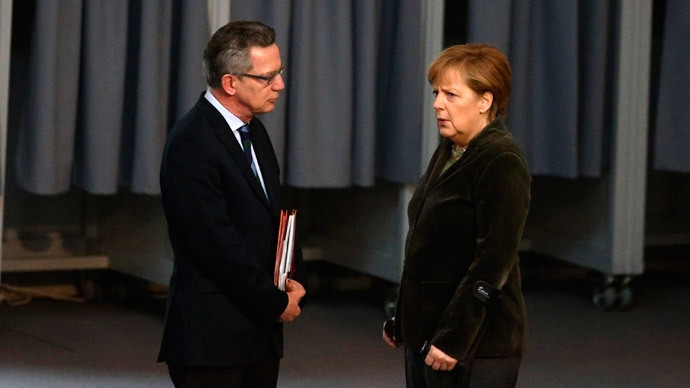 Thomas de Maiziere, one of Angel Merkel's closest allies, has said that American assurances on NSA surveillance are not sufficient and that bilateral talks were unlikely to yield much progress on the issue.
When reports emerged last October that the US National Security Agency (NSA) had monitored Chancellor Merkel's mobile phone there was outrage in Germany, which still remembers abuses in state surveillance under the Nazis and the East German Stasi.
Berlin immediately demanded a "no-spy" deal with Washington, but it has become apparent in recent months that such a deal is unlikely.
Merkel is due to fly to Washington for talks with President Obama in May, but Interior Minister Thomas de Maiziere said he was not confident of any results as far as the surveillance deal was concerned.
"The information we have so far is insufficient. My expectations of what further talks will yield are low," said de Maiziere in an interview with the weekly magazine Der Spiegel.
The revelations about the NSA's spying programs were first published in the Guardian and Washington Post in June, after leaks by whistleblower Edward Snowden.As well as the NSA's ability to monitor networks such as Google and Yahoo, Snowden also revealed that European leaders including Merkel, supposedly staunch US allies, had also been spied on.
De Maiziere added that US surveillance activities were unjustifiable regardless of their security concerns.
"US intelligence methods may be justified to a large extent by security needs, but the tactics are excessive and over-the-top," he said.
"If two thirds of what Edward Snowden maintains is true, or what has been put forward pertaining to him as a source, then the US action is beyond all measure," he added.
In January, Obama said that eavesdropping on the leaders of close allies would be banned, as would the vast collection of phone data on Americans, but he also said that US spy agencies would carry on gathering information on the intentions of other governments.