Thousands protest NSA spying in Berlin (VIDEO)
Thousands of people took to the streets of Berlin, Germany on Saturday to protest against NSA surveillance activities and fight for their right to privacy.
Demonstrators carried banners which read, "Stop spying on us," along with the phrases "NSA killed by internet" and "Thanks to PRISM the government finally knows what the people want." The event was organized under the slogan "Freedom Rather Than Fear."

"Intelligence agencies like the NSA shamelessly spy on telephone conversations and Internet connections worldwide [and] our government, one of whose key roles is the protection from harm, sends off soothing explanations," Kai-Uwe Steffens from the German Working Group on Data Retention said, as quoted by AFP.  Steffens was one of the speakers on stage at the rally.

The protest was put on by Germany's Green party, along with the Left and Pirate parties. The event hosts claimed the rally was attended by around 20,000 people. However, police declined to confirm the numbers, only stating that their "tally differs from that of the organizers."

"The Europeans have been outraged by the amount of their personal details that have not only being obtained through spying scandal, but also just handed over [to the US intelligence] by certain companies," RT's Peter Oliver reported from Berlin. 
Documents leaked by whistleblower Edward Snowden revealed close cooperation between the NSA and internet giants such as Facebook and Google. 

"Our data should be protected and we should have access to information, so we know what's going on," one of the protesters told RT. "At this moment, everything is strictly confidential and we have no way to defend ourselves from surveillance and today we'd like to show that we will not accept this."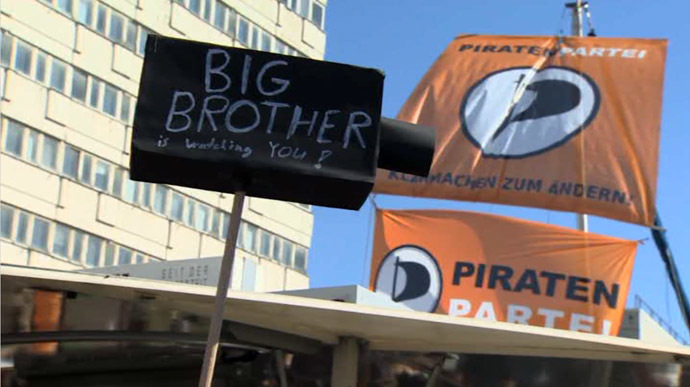 On Thursday, German Justice Minister Sabine Leutheusser-Schnarrenberger raised the possibility of new, tangible measures to punish corporations which participate in American spying activities.

She called for the creation of EU-wide rules to regulate the protection of information, adding that "United States companies that don't abide by these standards should be denied doing business in the European market."

When Snowden's leaks were first revealed, German Chancellor Angela Merkel claimed that she learned of the US surveillance programs through press reports. However, it later came to light that Germany's BND intelligence service sends "massive amounts" of intercepts to the US and UK daily.    
Although government spying is anything but new, Snowden's revelations showcase the large scope of modern day surveillance programs, said Gavin MacFadyen, director of the Center for Investigative Journalism at London's City University.

"It's been going on for a long time. People forget that in the 70s, a spy system called Echelon was uncovered...what was different about that spying system and the present one is the sheer extent of it," MacFadyen told RT.

"The major security companies and social networking companies have opened their effective backdoors to the NSA. Even commercial confidentiality as an area of secrecy has been violated completely by this hovering up of everything. So I think people are alarmed as they realize it will affect them personally – it's not just political opponent. But a possibility of blackmail is enormous, some indecent federal employee can easily sift this material, find something terribly damaging, and then use it for personal gain or political gain," he continued.

You can share this story on social media: