'I'd tap that!': NSA Pick Up Lines campaign creates Twitter storm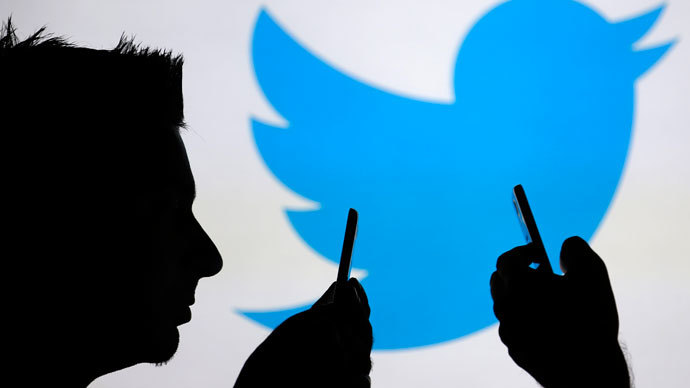 "Roses are red, violets are blue, your pin number 6852," read a tweet on the site as "NSA pickup lines" trended worldwide on Sunday. Posts sarcastically referenced NSA intrusions as they envisaged how the agency might flirt with an unsuspecting user.
While some users proclaimed themselves "great listeners" using the hashtag, others sinisterly declared to the reader: "You come here often" – a slightly creepier take on the old line "do you come here often?" stating the answer to the question themselves. 

I bet you're tired of guys who only pretend to listen. #NSAPickupLines

— Stephen Green (@VodkaPundit) August 25, 2013
Others allowed the opportunity for the blossoming relationship between NSA and a user to be more two-sided, actively asking: "Do you come here more often than our records indicate?"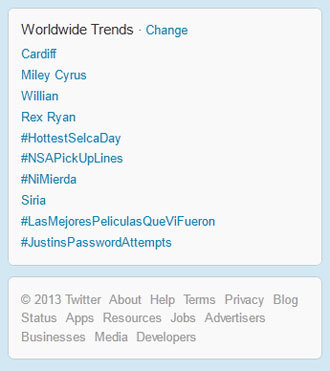 Some "bribes" for dates were also proposed, with one "agent" suggesting that his "subject" might like to sit down with him and a bottle of wine, and "go through your ex's email."

On Friday, news surfaced that National Security Agency officers spying on love interests was a popular enough practice to have its own Orwellian label within the agency, "LOVEINT". It is a practice deemed a 'wilful violation' and "very rare" misconduct by the organization.

"NSA has zero tolerance for wilful violations of the agency's authorities" and responds "as appropriate," the agency said in a statement on Friday, published in WSJ.

It was revealed in June that for seven years, the US National Security Agency (NSA) has been using a warrantless Web surveillance system ("PRISM") with a near-limitless ability to spy on Americans' phone calls, emails, video chats, search history and more.

Major internet giants like Google, Apple and Facebook have been complicit in the scheme, providing the NSA with access to users' data.

Just relax while we unzip your files. #NSAPickUpLines

— PRISM US Gov (@PRISM_NSA) August 25, 2013
Remote NSA access to people's online profiles was hinted at in Sunday Twitter posts, despite its real possibility remaining undocumented. One "NSA agent" reassured her potential date that she had already changed his relationship status on Facebook.

A further tactic used in the satirical tweets was for the "NSA agent" to seemingly lie dormant, having watched their subjects for some time and then make their move after noticing that phone calls to their usual partner had trailed off.

Some tweeters stooped to informing someone that their partner was cheating on them, while others used their snooping powers slightly more responsibly: to identify strong similarities in music taste or restaurants, or bizarrely, to compliment someone's credit rating. 


#NSAPickUpLines Hey, cutie, can I give you a ride home? I see your car's been repossessed. Oh, & your hubby is cheating, BTW.

— Pat Barnhart (@writingdownpat) August 25, 2013

Unlike the aforementioned tech companies, Google, Apple and Facebook, Twitter was not listed as a participant in the PRISM program – as the bulk of the platform's activity is conducted in the public sphere. 


#NSAPickUpLines Roses are red, violets are blue, your pin number 6852.

— THE Clint Black (@CBlackTX) August 25, 2013
However, it still complies with some government requests for data, including users' email addresses or IP addresses, as its semi-annual transparency report indicated. It showed that the US topped the list, with 902 – 78 percent of requests – being made over the past half year.

The social media platform would also still have to comply if the FISA court asked for information.

Apart from #NSApickuplines, two other hashtags sprang to life, also causing hundreds of users to join the chorus on Sunday in a #NSAlovehaikus and #NSAlovepoems race. The classic 5/7/5 rhyme scheme was employed to heap admiration on subjects of NSA surveillance: 
#NSAlovepoems#NSAlovehaiku i could get so lost staring so deeply into your metadata

— darth hobbes™ (@darth) August 25, 2013
While others opted for a more classically Shakespearian "courtly love" approach:

What's in a name? That which we call a rose by any other name should be entered into a database of known aliases. #NSAlovepoems

— Tim Maly (@doingitwrong) August 25, 2013
Even US Congressmen got involved, with Democrat US Rep. Jared Polis writing an affectionate rhyme.

#NSAlovepoems Sam the Spook loved Mary He didn't mean to be scary Her phone calls fair game her movements the same PRISM revealed all daily

— Jared Polis (@jaredpolis) August 24, 2013
You can share this story on social media: