Helm hard a starboard: Norway joins European right turn
Norway's opposition right-wing parties won a landslide victory in Sunday's parliamentary election, although infighting may produce a minority government. Norway joins a trend of more right leaning administrations in Scandinavia.
The Conservative Party's Erna Solberg, who is due to become Norway's second female Prime Minister, won public support with promises of diversification of the oil-focused economy, privatization of state firms and tax cuts. She will also be the first Conservative to lead the country since 1990.
"Today voters have given a historically strong victory for the center-right," Solberg told supporters. "We will give this country a new government."
But she is facing tough coalition negotiations with her allies from the right-wing populist Progress Party. Its anti-immigration, anti-tax rhetoric is seen by some as too radical even after it was toned down in the campaign.
The party once counted among its members Anders Breivik the mass murderer, who killed 77 people in 2011 in an attack targeting the Labor Party of outgoing Prime Minister Jens Stoltenberg. Support for the party shrunk in the wake of the bomb and gun attacks, but now it has recovered and is poised to enter government for the first time
"Norwegian voters have moved towards the right in several of the last elections, and seemed to be doing so in large numbers this year," Johannes Bergh, Senior Research Fellow at the Institute for Social Research in Oslo told RT.
Progress wants to spend more oil money than other parties, they want to cut foreign aid and they want a tough stance on immigration. Conservatives and Progress will need either the Christian Democrats or Liberals to form a majority government, but neither is keen to team up with Progress. On the other hand Norway has a history of stable minority coalitions, which is partially explained by legislation that doesn't allow early election.
Unlike many other European countries, Norway went relatively unscathed through the global economic downturn, with its economy fueled by booming offshore drilling, insulated by a robust public sector and enjoying low unemployment. Still Stoltenberg's defeat came amid accusations that he failed to seize a once-a-lifetime opportunity, leaving a slowing economy and a mixed social record after eight years in power.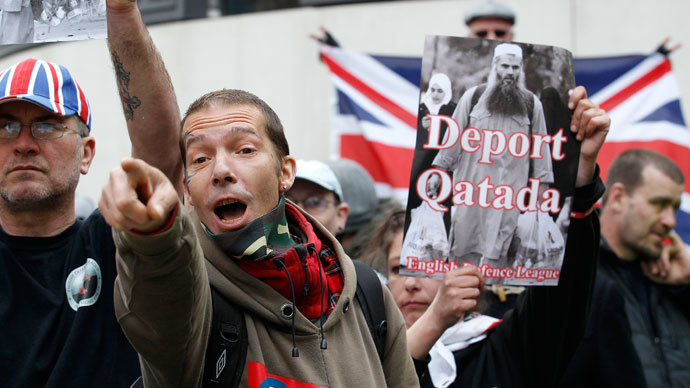 Solberg said her party will gather on Friday to appoint official coalition negotiators. The new cabinet is to take office after Stoltenberg presents the 2014 budget on October 14.
The victory of rightist parties in Norway puts it on a par with countries like France, Hungary or Austria, where political forces sharing anti-immigration, protectionist and often anti-Muslim views are gaining popularity, reports RT's Lucy Kafanov. 
In France after years of electoral decline Marine Le Pen's National Front scored its best election results in 2012, partially thanks to her softening the party's platform from the radical times of the 1990s.
Austria's Freedom Party focused on immigration and Muslim presence and even called for withdrawal from the euro zone. It gained more than 17 per cent of the vote in the 2008 parliamentary election and is expected to do better in this year's election.
Jobbik, the Movement for a Better Hungary entered parliament for the first time three years ago after gaining over 16 per cent of the vote in the 2010 election. It describes itself as a radically patriotic Christian party, but some opponents brand it as neo-fascist.
The future of these and other right-wing groups may depend on the economic situation in Europe, since popularity of rightist ideas, including radical ones, is often tied with cycles of growth and slowdown in the economy. But currently Europe shows stagnation rather than recovery.