North Korean ship sinks during 'combat duties', crewmembers killed
Published time: 4 Nov, 2013 13:22
Edited time: 4 Nov, 2013 13:56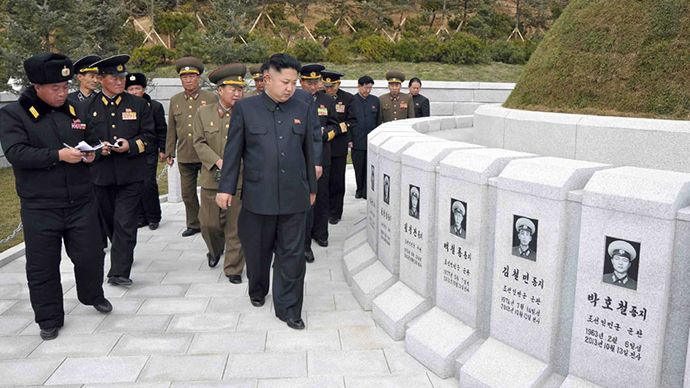 A North Korean Navy ship sank off the east coast last month, a state media report confirmed. Many crewmembers were killed in the incident, although the exact number of casualties remains a mystery.
The KCNA news agency released photos of North Korean leader, Kim Jong Un, laying flowers at the foot of a memorial to the dead.
"Submarine chaser No. 233 was lost while performing combat duties in mid-October," the agency report said.
The article didn't explain the nature of the operation, which ended with the sinking of the ship belonging to Navy Unit 790 of the Korean People's Army.
North Korea's Rodong Sinmun, the official newspaper of the ruling Korean Workers' Party, also published a version of the story on its front page.
The media did not specify the number of the casualties in the incident, but said that Kim had taken "measures to find all their bodies". The photos showed at least 19 grave markers emblazoned with the faces of the sailors. The markers put the date of the deaths as October 13.
Admission of deadly incidents, especially involving the military, is rare in North Korea, where media reports are rigidly controlled by the government.
The North's warship sank after a collision during military drills, some South Korean media said, citing unnamed military sources. The reports suggested that at least 30 people died in the incident, which happened near the city of Wonsan in the Sea of Japan.
Seoul blames Pyongyang for sinking a South Korean navy ship in 2010 that killed 46 sailors, a charge that North Korea denies. 
The incident triggered a harsh response from the conservative South Korean government, which cut all remaining economic ties with the North, with the exception of the Kaesong industrial zone.