US-S. Korea war games prompt Pyongyang declaration: Ready for final battle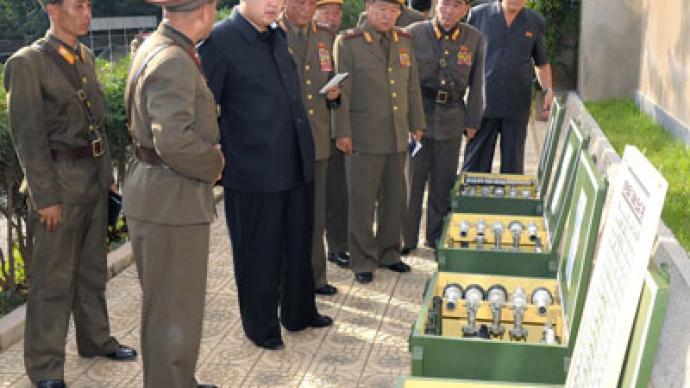 North Korean leader Kim Jong-un says Seoul and Washington are really trying his country's patience with an unceasing caravan of joint military drills. This summer the Korean Peninsula has already witnessed two major US-led war games.
Overall more than 30,000 US troops, practically all the American military contingent in South Korea, reinforced by 3,000 troops from overseas, are taking part in joint war games with the South Korean army that started on August 20.Despite the stated defensive nature, the annual drill known as Ulchi Freedom Guardian has predictably roused the attention of ever-wary Pyongyang.The new North Korean leader Kim Jong-un, believed to be in his late 20s, acknowledged the great threat to his country and claimed the war games are in fact training for a preemptive nuclear attack.The leader assured North Korean army is ready to meet "deadly blows" in "an all-out counter-offensive" in case the country's territory is violated or even a single shell falls on North Korean soil, reports Korean Central News Agency (KCNA)."There is a limit to our patience," warned Kim Jong-un, saying the army is only waiting for the final order to engage in a "life-and-death battle."The last time Washington and Seoul were flexing military muscles together was only in June. Back then Pyongyang slammed the US military for leading South Korea, Japan and the US joint drills conducted close to North Korea's borders and called those war games a reckless provocation putting the region under the threat of a new military conflict.Technically, North and South Korea remain in a state of war, since no peace treaty was signed after the conflict of 1950-1953 ended with a ceasefire that is still in effect. That is why a constant sharpening of swords has become an everyday habit for both nations.Cross-border tensions have been particularly high since the South accused the North of torpedoing one of its warships with the loss of 46 lives in March 2010.The North angrily denied involvement but went on to shell Yeonpyeong Island in the November. The attack resulted in the deaths of four people, two of them civilians, on a South Korean island.The two countries exchange threats of military action quite often, fortunately thus far avoiding a full-scale conflict. Pyongyang has proven nuclear capabilities while the US military bases in South Korea are rumored to possess nuclear weapons stockpiles, which means a military conflict between Pyongyang and Seoul could escalate into a local nuclear war.
You can share this story on social media: