World powers urge N. Korea to refrain from escalating tensions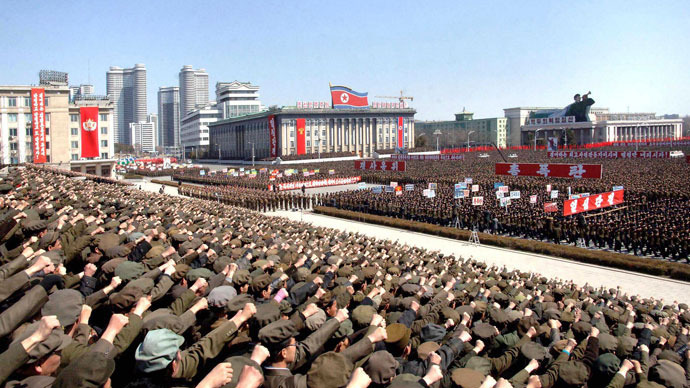 Pyongyang's recent announcement declaring a "state of war" with Seoul has stirred up international condemnation with major world powers urging North Korea to refrain from escalating tensions in the region.
Both the US and South Korea, the two countries, which have been the targets of the threats, have expressed skepticism about the sabre rattling.

"We take these threats seriously and remain in close contact with our South Korean allies," said Caitlin Hayden, spokeswoman for the National Security Council adding, however, that "North Korea has a long history of bellicose rhetoric and threats."
South Korea also said that the threats are not new and were just a follow-up to Pyongyang's earlier warnings of military action in response to the annual US-South Korean military drills.
Moscow has called Seoul and Washington's responses measured, praising both nations for acting to avoid any crisis.
The Russian Foreign Ministry expressed hope that those involved in the conflict continue to act responsibly and "neither side crosses the line that will become a point of no return."
Meanwhile, the UK and France have both called on Pyongyang to cease the harsh rhetoric against its neighbor.

"We have made clear to North Korea that its long-term interests will only be served by constructive engagement with the international community. These threatening statements will only seek to isolate it further," the UK's Foreign Office said.
France also expressed worries regarding the situation on the peninsula.
"We urge North Korea to withhold from further provocations, follow its international obligations including those with the UN, and start negotiations as soon as possible."
Germany, too, has warned against escalation in the region saying it directly affects global security and peace.
Australia announced that it considers imposing more sanctions on Pyongyang.
On Saturday, North Korea said it was entering a "state of war" with its Southern neighbor. The announcement came after weeks of threats from Pyongyang, which demands a halt to annual US-South Korean military training.

Tensions have been building on the peninsula since the North proceeded with a successful third nuclear test in February, which was condemned by Washington and Seoul. Following the test, the UN Security Council imposed another round of sanctions on the isolated nation.
The North and the South technically remain at war, as a peace agreement was never signed following the conflict in 1951-53. Throughout the last 60 years Pyongyang has several times announced that it was quitting the armistice.

You can share this story on social media: