Satellite shows $850 mln NK rocket launch imminent?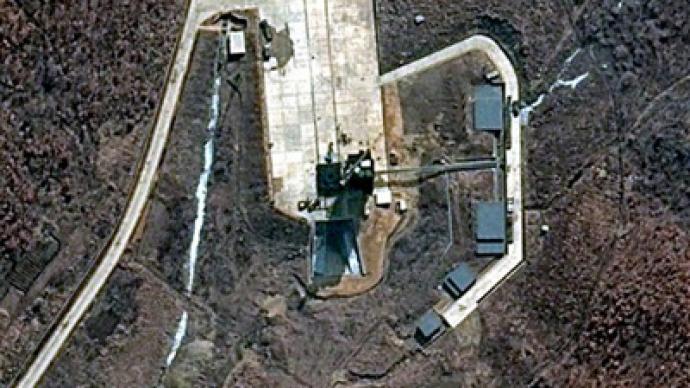 The latest satellite images prove North Korea is primed for a controversial rocket launch set to blast off later this month. The launch is going to cost the cash-strapped country $850 million, reports say.
It seems Pyongyang "has undertaken more extensive preparations for its planned April rocket launch than previously understood."That's according to the US-Korea Institute at John Hopkins School of Advanced International Studies, which provided an analysis of the images taken last Wednesday to the Associated Press.The pictures show a mobile radar trailer essential for any launch resting at the end of a newly cut dirt road which extends from the Tongchang-ri site entrance. Equipped with what the analysts say is a radar-tracking system, the trailer will provide engineers with real-time data on multiple dimensions of the rocket's performance.
Rows of empty fuel and oxidizer tanks are also visible in what were previously empty enclosures."The tanks were apparently dumped in these locations after their contents were transferred to buildings that will directly fuel the first stage of the Unha-3 rocket", the analysts said.  "The large number of apparently empty tanks indicates that the transfer process may have been close to completion," they continued.The launch, scheduled sometime within the next two weeks, is purportedly to put an observation satellite in orbit and mark the centennial of the nation's founder, Kim il-Sung.  
The price to pay
South Korean intelligence officials have estimated the launch will cost their northern neighbor some $850 million, Yonhap News Agency reports.With the launch site itself costing around $400 million, the rocket and its payload will cost $300 million and $150 million respectively.However, much of the international community remains doubtful the cash-strapped state would invest close to 1 billion dollars to study the country's crops and natural resources.Washington has condemned the launch as a violation of UN resolution 1874, fearing it may put Pyongyang one step closer to delivering a nuclear weapon to the United States.
The US has threatened to nix a February 29 accord which would provide food aid to the economically depressed country in exchange for a complete halt to missile and nuclear tests.North Korea's regional neighbors are also fearful of the launch, with Tokyo issuing orders to intercept the rocket if it flies over Japanese territory.Seoul has similarly warned it will destroy any part of the rocket that ventures too close to South Korea.However, the North claims the rocket's intended flight path will keep falling debris out of neighboring countries.
You can share this story on social media: