​North Korea stays mum about new nuclear test, says world must 'wait and see'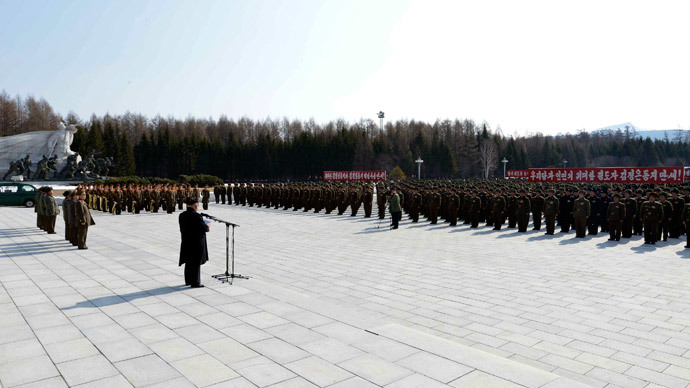 North Korea balked at offering details of a "new form" of nuclear test it threatened to launch following a United Nations Security Council condemnation of Pyongyang's recent ballistic missile exercise.
North Korea launched two medium-range Rodong ballistic missiles into the sea in late March. The missiles, which have the capability to hit Japan, were the first firing of mid-range ordnance in four years. Pyongyang has launched a series of short-range rockets in recent months, as well.
The UN Security Council condemned the exercise the next day, on March 27, calling it a violation of UN resolutions. The international body said it was considering an "appropriate response," according to Reuters.
Then on Sunday, Pyongyang countered with a threat to conduct "a new form of nuclear test."
North Korea "made it very clear, we will carry out a new form of nuclear test. But I recommend you to wait and see what it is," North Korea's deputy UN ambassador, Ri Tong Il, said on Friday.
On Friday Japan Defense Minister Itsunori Onodera ordered the military to intercept and destroy any of North Korea's missiles in case any of them threaten Japan's territory, the country's Kyodo News reported.
Ballistic missile launches are outlawed under UN Security Council resolutions, which were crafted in response to multiple North Korea nuclear tests and rocket launches in recent years. Pyongyang's nuclear and missile programs are the target of UN Security Council sanctions.
Ambassador Ri also accused the United States of being "hell bent" on regime change in North Korea (DPRK), and for ignoring Pyongyang's denuclearization proposals on the Korean peninsula in order to maintain its military presence in South Korea and elsewhere in the region.
"The US is hell bent on eliminating the DPRK politically, isolating DPRK economically and annihilating the DPRK militarily," Ri said on Friday. "There is a great question mark why the US is hell bent on increasing the tension, ignoring the DPRK proposals, very important for peace and security."
Ri also took the US and UN to task for accusations of human rights abuses in North Korea.
"The US is behaving as if it is a human rights judge while it should be subjected to the International Criminal Court more than anybody else. They made a lot of crimes," he said, mentioning the wars in Iraq and Afghanistan.
Ri also criticized joint military drills, known as Foal Eagle, which the US holds with South Korea every year.
"The US is now going around crazy with these joint military drills without caring about peace and security on the Korean peninsula," Ri said.
You can share this story on social media: