N. Korea: We will never give up satellite launch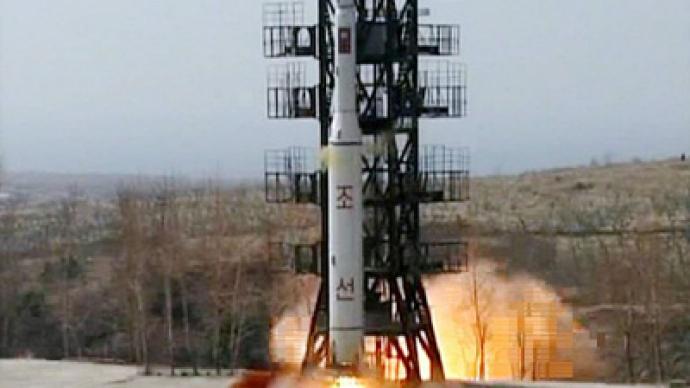 Pyongyang vows to go ahead with a launch of a satellite aboard a rocket, calling President Barack Obama's criticism of the plan "confrontational." North Korea insists the launch does not violate any UN resolutions and is crucial for its economy.
North Korea "will never give up the launch of a satellite for peaceful purposes,"  a Foreign Ministry spokesman said in a statement broadcast by the official Korean Central News Agency.South Korea and the US are worried North Korea will use the launch of an Earth observation satellite, scheduled for mid-April, to disguise a test of long-range missiles capable of carrying nuclear weapons. Pyongyang said on Tuesday Washington's decision to view the launch as a provocation stems from a "wrong conception.""[Obama] should drop the confrontation conception of standing in the way of North Korea, though belatedly, and make a bold decision to acknowledge that the republic also has a right to launch satellites," declared the Foreign Ministry.The UN Security Council's resolution 1874 forbids Pyongyang from carrying out any launches.  The country's leadership has sought an exception for peaceful plans, however, like putting a satellite in orbit. North Korea, which after Kim Jong Il's death had to appeal to the US for resuming a food aid program, says the upcoming launch is vital for economic development.The satellite launch, announced by North Korea 11 days ago, stirred controversy among global powers. Barack Obama, leading the effort to curb the launch, has warned the US might review the freshly stricken food aid agreement, as Pyongyang's nuclear and missile moratoriums were part of that deal. Meanwhile, South Korea has warned it might shoot down parts of Pyongyang's rocket if they violate the country's air space. Japan also opposes the launch, as they country's Defense Minister ordered interceptor missile on Tuesday to prepare for what may come.
You can share this story on social media: