'When kids bury kids': Russia remembers 130 victims of Nord-Ost terror act 10 years on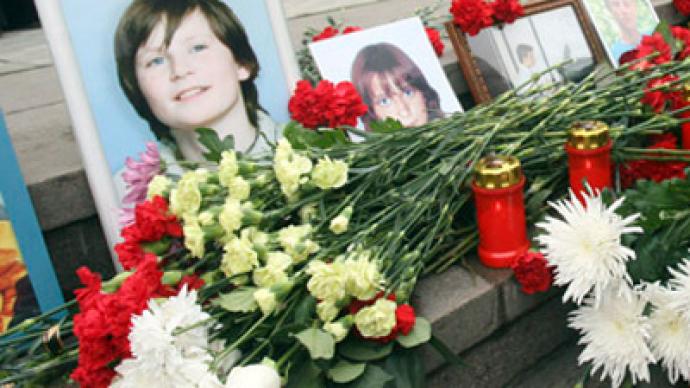 Ten years ago, a night at a Moscow arts center turned into a three-day-long nightmare for more than 900 people taken hostage by terrorists. RT is speaking with survivors and relatives of the victims of the Nord-Ost tragedy.
The Moscow theater hostage crisis is one of the darkest and most controversial pages of Russia's modern history. Russians were thrown into a state of shock when dozens of armed militants seized a theatre near the center of the country's capital.Many women and children were among the hostages, and were held at gunpoint in a hall filled with enough explosives to kill everyone inside. Russians all over the country breathlessly awaited news updates from the site.The raid on the theater remains a point of controversy even now. Critics blamed Russian authorities for the deaths of more than a hundred hostages, due to the use of knock-out gas. Defenders said the gas was the only option against the heavily armed suicide squad, and that the hostage deaths were due to a number of reasons resulting from their being held captive.Those who survived the incident share with RT their stories of terror, starvation and despair.
Banners on the arts center in Dubrovka Street read: "Nord-Ost." Chechen gunmen have just burst into the center, taking the cast and audience hostage (RIA Novosti/Dmitry Korobeinikov)'Terrorists took me away, Mom was left behind'October 23, 2002, was just a regular night for the culture center in Dubrovka Street: the actors were just going through part one of the acclaimed musical Nord-Ost and the audience, taken away by the love story, were anticipating seeing a real WWII fighter plane land on the stage.Instead, an armed man appeared and proclaimed the building had been seized. Around 40 terrorists flooded the hall on both levels. The hooded men and women would later demand the Russian government withdraw forces from its southern republic of Chechnya, threatening to kill 10 hostages for every dead militant."Some got scared or panicked, others were in tears. But I had two children, one of them just a toddler. So I had to manage it somehow… find something to eat, go to the lavatory somehow, things like that. I had to go on living and caring after my children even if I was going through this," Varvara Kornilova recalls 10 years on from the tragedy.
This grab taken 24 October 2002 from Qatar-based al-Jazeera satellite TV station shows a woman (2nd L) surrounded by others, all clad in Islamic chadors, vowing to "kill hundreds of infidels" in Moscow's hostage crisis. Al-Jazeera said she was one of the Chechen rebels holding several hundred people hostage in a Moscow theater. (AFP Photo/Al-Jazeera)Up to 916 people were taken hostage, 75 foreigners among them. First the group was split into men and women with kids, then into spectators and actors. The actors were sent to the balcony, and two huge bombs were placed in the middle of the hall, while women wearing explosive belts spread themselves among the hostages.As security forces circled the building, several attempts to negotiate took place. Most of them bore no result. Still around 50 hostages, most of them children, were set free. Up to a dozen people also managed to run for freedom, escaping through windows."When [the terrorists] took me away I was crying so loudly. All I understood was that my mom remained behind," says Anna Gushchina, who was only five at that time. She was released after prominent Russian singer Iosif Kobzon went into the hall to talk to the terrorists."I said to [the militant] 'Abubakar, why do you need a mom without kids? Why do I want these kids without their mom?' He gave me a look and said 'Give him their mother'," says Kobzon. Anna's mother took away her two daughters and another toddler, lying that the baby was hers.
Relatives of the hostages holding a banner which reads "Give them water and medicine. People are more important than politics." (RIA Novosti/Aleksandr Polyakov)Terrorists scattered among the hostages, security forces were hesitating to storm the building. Any mistake would mean that everyone inside could end up be dead. The militants, on the other hand, were growing fiercer and more and more reluctant to allow the hostages food, water, lavatory visits or medical help.On the fourth day of the stand-off, a hostage panicked and tried to attack a suicide bomber. The captors responded with gunfire, wounding two other people.
The Special Task Force troops surrounding the building. (RIA Novosti/Dmitry Korobeinikov)Soon after that, security forces started pumping a noxious gas into the air system of the concert hall. The gas knocked out everyone in the building and allowed the Russian troops enter."I had only one question when I came to my senses: 'What's going on? Is it a storming?' 'Yes, it's a storming,' they tell me. I shivered all over, I was so frightened, and did not realize I was not there already. Then I saw my family and was so happy," says Aleksandra Rozovskaya, a former actress of Nord-Ost.
Russian special forces officers evacuate early 26 October 2002 unidentified hostages from the theater in Moscow, where a number of Chechen rebels were holding some 900 theater-goers hostage since 23 October (AFP Photo/Aleksandr Nemenov)The terror act, brought to an end on the morning of October 26, resulted in 130 deaths, 10 children among them. Five of the hostages were killed before the storming began, others died in hospitals after being released. The Nord-Ost cast emerged short of two child actors."It is a horrible sight, you know, when children are burying children, when kids say farewells to kids. I still have it before my eyes," says Svetlana Sergienko, the mother of Aleksandra Rozovskaya.Rescue operation comes under fireThough the efficiency of the Russian forces' operation was hailed across the world, it soon plunged in controversy. Families of the victims accused the authorities of using a poisonous gas, which in their view was the main reason for the massive death toll.The name or content of the gas has never been released, with officials saying it is a state secret. Even medics treating the hostages were reported not to have been told what substance their patients had been inhaling, making treatment more difficult.Officials deny the allegations."Those people died not because of the effects of the gas, for the gas is not harmful. People died for a number of reasons, such as dehydration, chronic diseases, for the very fact that they had been made to stay in that building," Vladimir Putin told US journalists in September 2003.
Hostages are being evacuated 26 October 2002 in a bus from the theater in Moscow, where Chechen rebels were holding theater-goers hostage since 23 October (AFP Photo/Aleksandr Nemenov)Others pinned the blame on emergency workers and doctors who were accused of improper transporting of unconscious people "which lead to asphyxiation." Some even turned to the European Court of Human Rights and won their appeal in December 2011. The judges ruled the planning and conduct of the rescue operation was "inadequate" and violated Article II of the European Convention (Right to Life). Still the court did not find that the Russian authorities' decision to use the gas contradicted the right to life.
Two home-made bombs confiscated in the arts center in Dubrovka street (RIA Novosti/Yury Abramochkin)The tragedy moving further into history, many are still yet to come to terms with it. Parents of child victims at times think they recognize their lost kids in streets; survivors shudder at the memories; Nord-Ost is unlikely to hit the stage ever again. But as no one has been left unchanged, some also give hope a chance."I am lucky. I have survived… And I have come to the conclusion that you should be generous, giving love and being kind. I shall overcome any difficulties. I believe in the good," former hostage Aleksandra now says.
Russian President Vladimir Putin reacts 26 October 2002 after receiving news about the successful storming of the Moscow theatre building captured by Chechen terrorists. (AFP Photo/Itar-Tass)
People react as they gather in front of the Dubrovka threatre marking the fourth anniversary of a siege by Chechen militants in Moscow October 26, 2006. (Reuters/Anton Denisov)
A man crosses himself in front of the portraits of the Nord-Ost musical hostage drama victims at the Dubrovka Theatre in Moscow, on October 26, 2010, during a commemoration ceremony for the event's 8th anniversary (AFP Photo/Alexey Sazonov)