No let-up before goals are won - Israil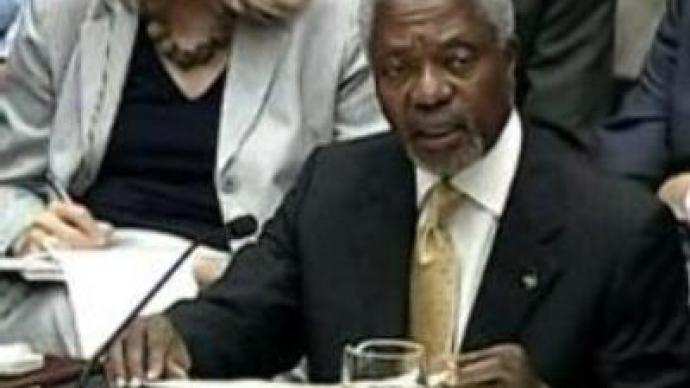 As crisis escalated in the Middle East, UN Secretary General Kofi Annan addressed the security council on a plan to stop the violence.
He called for an expanded peacekeeping force in
Lebanon
's southern border region, presenting the plan after consultations with special political advisor Vijay Nambiar, head of a three-man team sent by Annan to the
Middle East
last week.
Israel
's ambassador to the UN, Dan Gillerman, rejected Annan's proposal outright, saying
Israel
would not stop fighting until it had achieved its goals. "The first thing that must be addressed is secession of terror before we even talk about secession of hostilities," he said. "We are continuing to do what we are continuing in
Lebanon
, not just to protect
Israel
and to bring our boys home but to make sure that this cancerous growth in the heart of
Lebanon
is excised." Lebanese envoy Nouhad Mahmoud fired back at his counterpart, urging a ceasefire. "If you blame Hezbollah for the provocation, you have to blame
Israel
for the escalation," he said. "We insist on the necessity of a ceasefire and for allowing humanitarian assistance to reach the population of
Lebanon
."With an estimated half a million people affected in the region, United Nations agencies are stepping up appeals for safe corridors to provide humanitarian aid. Meanwhile, division at the security council between the
U.S.
and other members continues to grow. The
U.S.
insists it cannot support the ceasefire unless conditions are right."How you get a ceasefire between one entity, which is a government of a democratically-elected state on the one hand, and another entity on the other which is a terrorist gang, no-one has yet explained," U.S. Ambassador John Bolton said. Secretary General Annan asked the council to incorporate key elements of his plan in any resolution. But given the sharp divide within the council, it is unclear in what form or when such a resolution may be adopted.
You can share this story on social media: