No breakthrough in talks on North Korea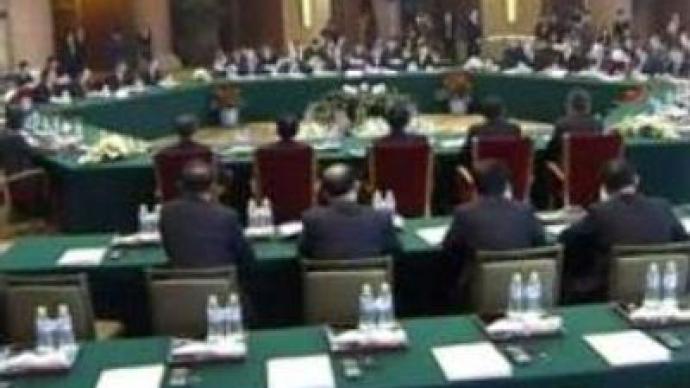 Russia's Deputy Foreign Minister, Alexander Losyukov, says there is still no breakthrough in the stalled talks on North Korea's nuclear programme, as Pyongyang seems reluctant to continue further negotiations.
Pyongyang has refused to take part in any negotiations until it receives $US 25 MLN worth of unfrozen funds.Losyukov says the money has still not been transferred from an account in Macau to the Bank of China.It had been hoped the talks in Beijing would iron out any last differences. But expectations have been forced back. The delay surrounds a $US 25 MLN money transfer, which North Korea says it wants before it agrees to take part in any negotiations.
"If North Korea insists that it cannot take part in negotiations before they confirm the transfer of the money, it will be difficult to convene plenary discussions, other than bilateral discussions, until the transfer of the money is confirmed,"
explained Chun Yung-Woo, South Korean nuclear envoy.Last month saw a landmark disarmament agreement reached between North Korea, South Korea, Russia, China, the U.S. and Japan.North Korea has agreed to shut down and seal its main nuclear reactor, in exchange for 1 MLN tonnes of fuel aid and full access to the $US 25 MLN from a Macau-based bank.The money had been frozen by the U.S., which suspected Banco Delta Asia of being complicit in money laundering or counterfeiting for North Korea.On Monday, the U.S. said the money would be transferred to a North Korean account in Beijing but it was up to Macau's monetary authority to release the funds.Although the hold up has prevented progress from being made, Japan's nuclear envoy said he is optimistic the dispute will be settled.
"As soon as the current problem, which is merely a technical issue, is resolved, I believe things will start moving forward,"
Kenichiro Sasae stressed.Japan's optimism for nuclear disarmament has also been shared by Russia's envoy at the talks.
"If everything goes well, we probably see the shut down of those facilities sooner or later."
Alexander Alexeyev said and then continued:
"It would be difficult to do it before the deadline, I think, but it is not a catastrophe if it's not a little bit later, it would be a good result too."
Although this hitch has prevented progress from being made, bilateral talks between the countries involved have been taking place instead.
You can share this story on social media: