New Ukrainian minister angers opponents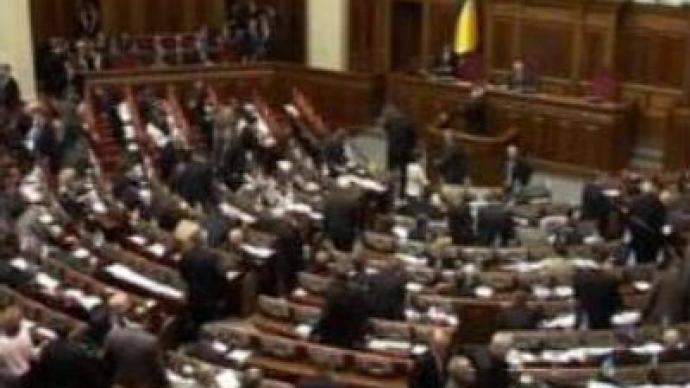 Ukrainian politics has taken a turbulent turn with the new cabinet appointment of Anatoly Kinakh as economics minister. The decision by the country's PM Viktor Yanukovich has angered the pro-presidential 'Our Ukraine' bloc.
The Prime Minister swapped his minister of economics with another top politician, however, from the rival camp.Anatoly Kinah of the 'Our Ukraine' party, who only yesterday was in opposition to the government, has turned out to be a part of it now.
"I made this decision not because I wanted this top seat. I've already had many titles in my life from ministers to the Prime Minister. I am concerned that Ukraine's wasting time in political disputes, and I am above this type of politics,"
stressed Mr Kinah.Meanwhile, members of 'Our Ukraine', who see Anatoly Kinakh's co-operation with Viktor Yanukovich as a betrayal, have decided to expel him from the faction.However, despite the controversy, Mr Kinah shared the glory with 3 other ministers appointed at the same session.Among them, the embattled seat in the Foreign Ministry was also finally taken by a surprise-candidate, Arseniy Yatsenuk.The opposition believes promoting Mr Yatsenuk was a hasty decision.
"I don't think it was a strong move. This appointment is a compromise between the President and the Prime Minister, but it was unnecessary. The coalition will never compromise with the President. For instance, they drew away the new minister of economics from the Orange team. It was a betrayal,"
claimed Alexander Turchinov from Yuliya Tymoshenko's block.So, some Ukrainian politicians climb up the career ladder, whereas others have to report to the General Prosecutor's office, like one of the leaders of the Orange revolution, Yury Lutsenko, nowadays former interior minister who has found himself being a suspect in a case on abuse of power.
"When thousands of people took to the streets to support our civil movement, the governing majority got scared. That's why this case was fabricated to discredit me. They want to stop me travelling around Ukraine and talking to the people. But if they do it, people will come to Kiev to support me,"
underscored Mr Lutsenko.On his side, summing up the events of the political year, Ukraine's President Viktor Yushchenko admits it is a crisis.As for the country's government, new friends from the rival camp as well as governmental control over almost every sphere of life in Ukraine are signs of a victory.At the moment, the governing coalition has some 250 votes needed to pass laws without the opposition.However, it is still not enough to be able to change the constitution. So, if the majority wins over 50 more deputies, they may have power for radical reforms, even like cancelling the post of the President.
You can share this story on social media: