New RT.com: You've got questions, we've got answers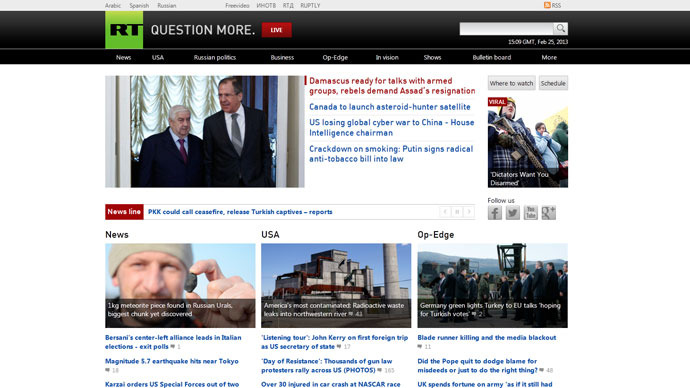 With the launch of the new RT.com site last week, there have been a few technical questions and concerns voiced by our readers regarding the revamped site.
Q:Why aren't the RSS feeds working?

A: Problem solved! The RSS feeds are now available on the index page and in the News, USA, Russian politics, Business and Op-Edge sections. The index page also has a link to an RSS feed with the latest news. Other verticals have links to RSS feeds in their corresponding sections, and there are also now RSS feeds for tags and trends.

Q:What about iOS devices?

A: All content from RT.com, including videos, is now fully accessible on your iPhone or iPad.

Q:Why redesign the site?

A: One of the big reasons is our switch to HD broadcast – a higher-quality 16:9 format for pictures and videos instead of 4:3. We also wanted to make the site look good on mobile devices, so instead of publishing a limited mobile version of the site, we created a site that can adapt to portable devices. We had to completely redesign the site in order to do this.

Q:Can you make the old version available?

A: In creating the new site and its upgraded features, we had to change the architecture of the website – the old and new versions of the site are entirely different creatures. So, while the old articles could be transferred to the new site, new articles cannot be published on the old one.

Q:Why don't RT's mobile apps work?

A: They do now! We had to make sure that the new website was stable before we could launch them again.

Q:Why is the quality worse for some videos?

A: While the quality of the videos currently being uploaded to the site is much higher, the old videos transferred from the previous site were compressed at a lower resolution, and unfortunately cannot be improved. We are also aware that there were some sporadic problems with the quality of some of the videos that were uploaded immediately after the new site was launched. However, the overall viewing experience for RT.com has been greatly improved over the site's previous iteration.
Q:Why can't I skip around to different parts of videos?
A: This problem has been solved. You are now able to jump around to different parts of videos.
Q:Why doesn't the search function work properly?
A: Issue tackled. You should now be able to find the news, videos and images you are looking for. If you are still experiencing problems please explain their nature, let us know what you were looking for and what key words you used.
Q:Why do I have to register through a social network? I don't want to use Facebook or Twitter, but I would still like to have a voice in the RT community. Is there another way I can register to post comments on the site?
A: At the moment there is no other way to register on RT.com, but we have taken your concerns into account. We are looking into other ways how users who don't feel comfortable using social networking platforms can still have their say in the comments section. In the future, there will be a way to register directly through RT.com. We'll keep you posted!

Q:Why won't my comments upload even though I'm registered?

A: We believe this issue should be fixed now, but if you are still having trouble adding comments, please tell us!
Q:In our Android app, why doesn't news upload for some sections?
A: Go to the settings of your device, choose applications manager, stop the app, clear the cache, and then reopen the app. In the 'READ' tab, choose 'DELETE ALL;' in the 'SUBSCRIBE' tab, re-subscribe to the sections you are interested in.
You can share this story on social media: