New Palestine unity government faces mixed reaction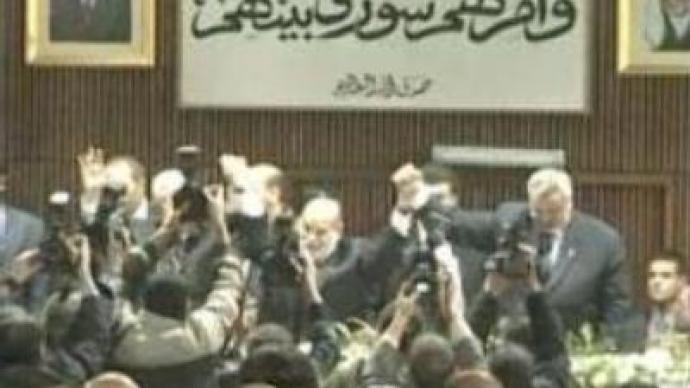 Reaction to Palestine's new unity government between Hamas and Fatah has been mixed. The government won approval from the Parliament on Saturday, and hopes a Western aid boycott currently in place will be removed.
Israel categorically states it won't work with the coalition, for failing to accept the demands of the Middle East Peace Quartet. The demands include recognising Israel, renouncing violence and accepting previous peace deals.
"We cannot have contact with the [Palestinian] government or its ministers considering the fact that this government is not accepting the conditions of the international community and sees terror as a legitimate mean for achieving its goals,"
stressed Ehud Olmert, the Israeli PM.Prime Minister Olmert's cabinet voted overwhelmingly to uphold the Israeli boycott of the new Hamas-Fatah Palestinian government.However, ministers say they still intend to keep open the channels of communication with the Palestinian president Mahmoud Abbas.
''I think Israel should continue its talk with Abu Mazen, even more so I think there should be now an Israeli initiative to move ahead. It's now time for us to take the leading role to push forward the process in the Middle East,''
said Yuli Tamir, the Israeli cabinet minister of education.On Saturday, Palestinian lawmakers voted overwhelmingly to approve the new unity government.It comprises members from both Hamas and Fatah, who until recently have been embroiled in deadly street battles.The first country to recognize the new coalition was Norway, announcing the immediate lifting of sanctions.Britain and the United Nations have signalled flexibility, suggesting money could start flowing again if the coalition keeps it anti-Israel activities in check.However, the United States, traditionally a major donor, has so far been cool to the new government. The U.S. said it is disturbed and disappointed that Palestinian Prime Minister, Ismail Haniyeh, continues to claim the right to resist Israel.While Russia's Foreign Minister, Sergey Lavrov, calls on the international community to lend their support to the new unity government.The international reaction dominated Palestinian newspaper headlines. Locals are optimistic the new government will improve their economic situation.In addition, Palestinian president Mahmoud Abbas has brushed aside international misgivings about Fatah joining forces with Hamas, saying it is the only way to avert a civil war in the West Bank and Gaza Strip.
You can share this story on social media: