New chemical element to be synthesized in Russia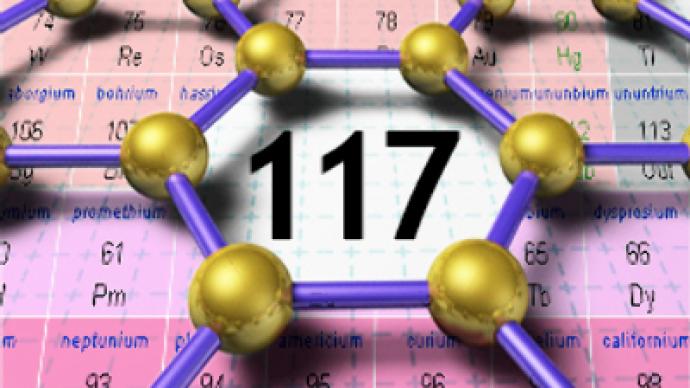 Russian physicists are trying to synthesize a new chemical element which would fill in the gap in Mendeleev's Periodic Table of Elements, pertaining to the atomic number 117.
A group of scientists from the Research Institute of Nuclear Reactors in Dimitrovgrad of the Ulianovsk Region in Central Russia have begun work to create the target for the further synthesis of a new chemical element, RIA Novosti reports on Wednesday.
The new element is expected to be synthesized by the end of this year at the Joint Institute for Nuclear Research in the famed town of Dubna, Moscow Region. To achieve this, the target made of berkelium – which was first synthesized at the Oak Ridge National Laboratory in the USA – will be bombarded in the accelerator.
The research team from Dimitrovgrad has extensive experience in the careful preparation of such targets for their colleagues in Dubna.
"We have made targets for the synthesis of eight elements. So, this is not something new to us. However, technology-wise, different materials have their own peculiarities," according to RIA Novosti, quoting a member of the research team.
The terms of the contract require the target to be ready in two weeks, but the physicists say it will take them less than that.
Unique target
According to Professor Sergey Dmitriev – the head of the Flerov Laboratory where synthesis of the 117th element will be carried out – Russian scientists have received approximately 25 milligrams of berkelium-249 from their American colleagues.
"This elaboration is unique. For the first time ever, Oak Ridge has produced such a large amount of this unique isotope, which is now made available for our joint experiments with the Dubna colleagues," the scientist said.
The cost of the berkelium is said to be in the millions of dollars.
Dmitriev also mentioned that the research team would have to complete its experiments as soon as possible, because the half-life of this isotope is 320 days.
"We expect to produce the 117th element by the end of this year, and then will be studying its characteristics," he added.
Preceding results
In 2000-2008, the Joint Institute for Nuclear Research synthesized super-heavy elements with atomic numbers 113-116, as well as the heaviest to date – number 118. However, it will take time for the world scientific community to recognize these elements officially.
Therefore, the position number 117 in the Periodic Table of Elements is still "vacant." It will be synthesized in a cyclotron U-400.
In June 2009, scientists officially recognized the discovery of the 112th element, called ununbium. This was 10 years after its single atom was produced by a group of German scientists.
The atomic number of the heaviest natural element, uranium, is 92. This parameter shows the number of protons in the element's nucleus. All elements heavier than uranium are synthesized in nuclear reactors, with fermium being the heaviest among them, with an atomic number of 100.
You can share this story on social media: