Netanyahu in hot water over $127k mid-air sleeping chamber amid austerity protests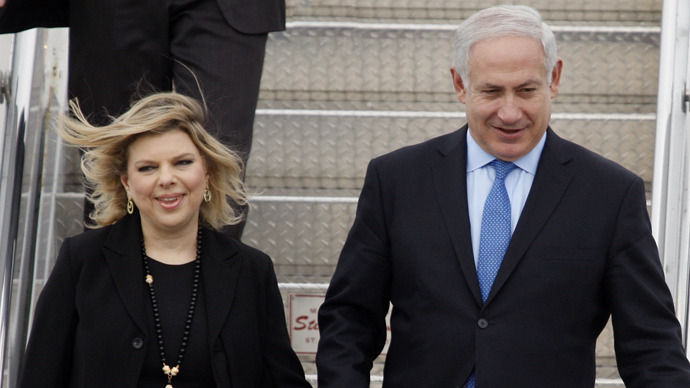 Israeli Prime Minister Benjamin Netanyahu has found himself wrapped in a blanket of controversy over his posh in-flight sleeping arrangements. It comes after reports that he and his wife had a $127,000 bedchamber custom-built for a flight to London.
The sum was tagged onto the $300,000 cost of chartering an El Al Boeing 767 to fly the couple to former British Prime Minister Margaret Thatcher's funeral last month, Israel's Channel 10 television reported. Netanyahu's aides and bodyguards were also present on the flight.

The chamber reportedly included a double-bed and was surrounded by four walls to give the couple complete privacy.

News of the expenditure for the 5 ½ hour flight prompted a wave of outcry throughout Israel's social media and newspapers.

"Bibi is king, and in a monarchy, when the king and queen fly, price is no object...where is the shame?" political commentator Sima Kadmon wrote on the front page of Yedioth Ahronnoth, Israel's largest newspaper.

Micky Rosenthal of the opposition Labor Party has called for an inquiry into the prime minister's "scandalous behavior," Maariv newspaper reported.

But Netanyahu's bureau said the prime minister was "unaware of the high costs of installing a bedchamber on a plane," Ynet news reported.

"When the prime minister learned of the costs, he issued an order not to install bedchambers on flights to Europe," the bureau said in a statement.

The office did add, however, that Netanyahu is entitled to a peaceful rest after a busy day at work: The prime minister's flight was "scheduled for midnight after a hectic day. The following day, [he] was supposed to represent the State of Israel...in light of this, it is appropriate that Israel's Prime Minister will be able to rest the night between such busy days."

A post on Netanyahu's Facebook page contained a link to a website inviting people to sign a petition demanding he pay for the bed himself.

It comes less than three months after it was discovered that Netanyahu's office had an annual budget of $2,700 to buy his favorite flavors from a Jerusalem ice cream parlor. The prime minister stopped buying the treats after the news emerged.

While Netanyahu is reportedly living in the lap of luxury, others aren't quite so lucky.

On Saturday, thousands of anti-austerity demonstrators hit the streets in six cities across Israel, to protest against tax hikes and other belt-tightening measures included in the country's new budget.

You can share this story on social media: