Obama-Netanyahu row strains ties ahead of Israeli elections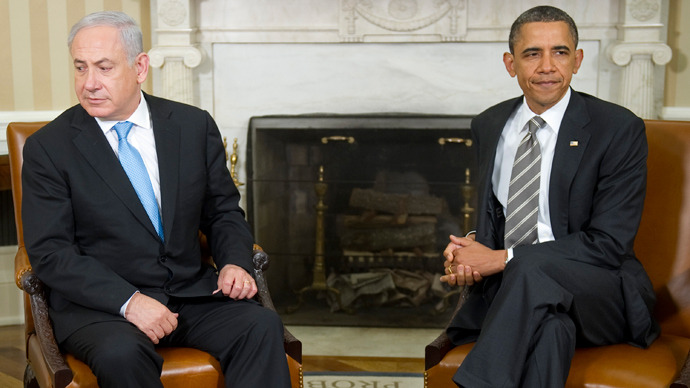 Israeli PM Benjamin Netanyahu has dismissed damning comments by US President Barack Obama on Israel's settlement policy. The heated rhetoric may signal a split in Israel-US relations, as Netanyahu is expected to win his country's upcoming elections.
"Everyone understands only Israelis will determine who faithfully represents Israel's vital interests," Netanyahu said during a visit to the Israel Defense Forces' Gaza division. He emphasized that the US sought for Israel to "restrain our pressure on Iran, withdraw to the 1967 lines, divide Jerusalem and cease construction in Jerusalem." Shrugging off US influence, Netanyahu said that Israel had "fended off those pressures."The Israeli Prime Minister's comments came after American political commentator Jeffrey Goldberg published a blog post on Bloomberg on Obama's response to Israel's announcement it will build thousands of homes in the West Bank."Obama said privately and repeatedly that Israel doesn't know what its own best interests are," Goldberg wrote, quoting Obama. "With each new settlement announcement, Netanyahu is moving his country down a path toward near-total isolation."Following the UN's recognition of Palestine as a non-member observer state last year, Netanyahu announced plans to build 4,000 housing units in the West Bank and East Jerusalem. The plans provoked international condemnation by human rights groups and world governments.The US voted against Palestine's bid for de facto statehood in the UN General Assembly, but Goldberg warned in his blog that in the future, Israel may not be able to rely on US support and vetoes in the UN.Members of Netanyahu's Likud party were enraged by the US president's comments, condemning them as "gross interference" and a US attempt to meddle in the upcoming Israeli elections. The Obama administration's relationship with Netanyahu has become increasingly frosty over the past year. Netanyahu and Obama came close to diplomatic blows on a number of occasions over how to deal with Iran's nuclear program. Last year, the Israeli prime minister repeatedly called for US aid for a military strike on Tehran's nuclear facilities. Obama has sought to defuse Netanyahu's aggression towards Israel's rival, and has preferred to ratchet up pressure on Tehran through financial sanctions.The two leaders' increasingly stormy relationship could herald a rift in a traditional alliance now that polls project that Netanyahu will win the upcoming Israeli elections.
You can share this story on social media: