Negligence case filed against Krasnodar hospital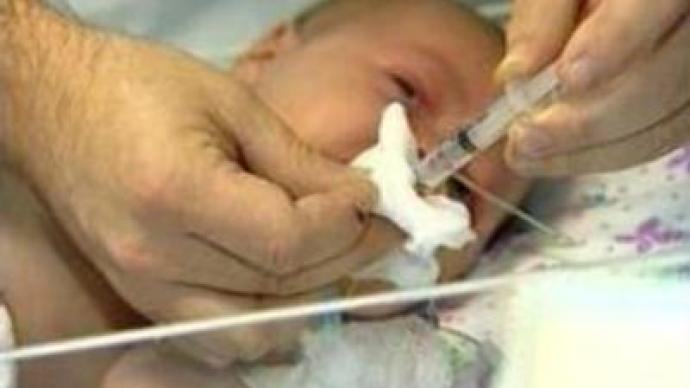 A father has brought a medical negligence case against the staff of a hospital in the Krasnodar region of southern Russia. His two-month-old daughter, Sonya Kulivets, had to have her arm amputated after treatment.
An anesthetist and a nurse are accused of negligence, but the father of the girl says they are not the only ones to be blamed for what happened. He wants other doctors from the Krasnodar Regional Children's Hospital to be brought to justice.
"They told me I can leave my child to die there, or she can have her arm amputated and she will be taken to an orphanage,"
announced Viktor Kulivets, the girl's father.The prosecution insists the actions of the medical staff led to the tragedy as a catheter was wrongly inserted into her arm. As a result, a clot formed and the child had to have her arm amputated at the shoulder.However, the defence claims that the girl had a genetic blood disorder and wants both parents to undergo blood tests in Moscow. They say it was the girl's condition that led to the blood clots and not the negligence of the medical staff.
"On behalf of the medical institution, I would like to file a request that the child, together with her parents, should be sent to Moscow for further medical examination,"
says Vladimir Chernobay, a defence lawyer.
The Prosecution strongly objects to the proposal.
"I do not rule out there is a cover-up among doctors who insist on the diagnosis. I have studied the case and I share the parents' doubt about this diagnosis. To my mind it could have been forged,"
states Valentina Zamkovaya, a prosecutor.
The case could be long as there are more than 40 witnesses in it, but no verdict will ever satisfy the parents.
"No matter what term they will get, I want it to be a lesson. When you are at work you must work and not just serve time,"
declares Viktor Kulivets.The Russian Criminal Code gives a very lenient maximum of one year in prison for this kind of crime. The next hearing is scheduled for April 23.
You can share this story on social media: