Need cash? Ask your local priest!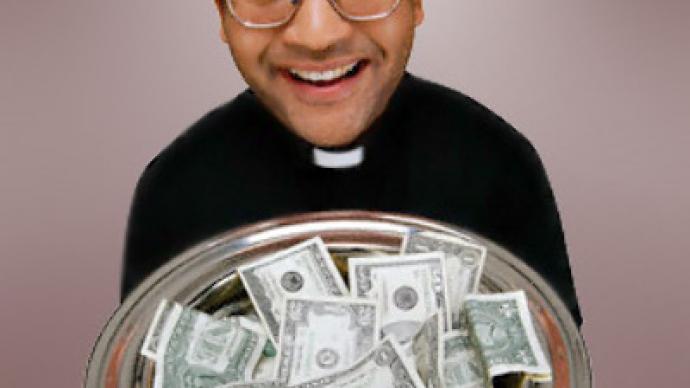 The economic crisis means tough times for families. With thousands of newly unemployed Italians strapped for cash, Catholic priests have stepped in to help families meet their monthly payments.
And the Catholic Church isn't putting in a dime.
More and more cash-strapped Italians are turning to God in need of money. Since the onset of the economic crisis, parishes and dioceses across Italy have been guaranteeing bank loans for their impoverished flock. More recently, the association of Catholic clerics has decided to launch a nationwide drive for donations in their churches, taking money from the pockets of parishioners and using it to help Italian families most in need.
The global credit crunch has forced Catholic priests out of confessionals and into the shoes of financial consultants. As of September 2009, the Italian Episcopal Conference (CEI) will be offering low-interest charity loans for those most in need—the newly unemployed. Moreover, Italy's unemployment assistance is one of the lowest in Europe.

Recent statistics reveal that Italy's unemployment rate peaked at 7.3 percent in February 2009 and is expected too rise to 9.4 percent in 2010. Indeed, the country is suffering from record-breaking jobless rates and is facing the worst recession since the Second World War.
The CEI is coming to the rescue of ailing Italian families from the brink of personal bankruptcy, announcing that it will set up a guaranteed fund by autumn this year that will make it easier for families most affected by the economic crisis to get more affordable loans from Italian banks.

The CEI has teamed up with the Italian Bank Association (ABI) to ratify an unprecedented accord: the CEI will allocate 30 million euro in a guaranteed fund, which will in turn be used to support 180 million worth of loans from Italian banks over the next three years. The loans will be made available to families with three children or more, or with a disable person, without a fixed income. To help pay for rent or mortgage payments, debtors will receive 500 euro a month from any one of the local banking institutions that have adhered to the initiative.
Loans will be given for a year with the possibility of an extension for a second year or until at least one member of the family finds a job. Interest rates will be capped at 4.5 percent—about half the amount charged by the country's larger banking institutions—loans will be guaranteed by the 30-million-euro fund and interest rates will vary depending on the bank granting the loan. Debtors will have five years to repay their debt.
To amass the staggering 30 million euro fund, clerics have decided to launch a nationwide drive for donations in parish churches on May 31, the day of Pentecost. The guaranteed fund, called "The Loan of Hope" by Vatican officials, will depend on "the generosity of Italians", says general secretary of CEI, Monsignor Mariano Crociata. But there is one catch: the 30,000 families to be granted the low-interest charity loans must be bound by marriage, either religious or civil. This means the loans will be open to immigrant and non-Catholic families, but not to any of the common law couples with three children or more in Italy.
"It's almost like blackmail; get married or you won't get one of our loans", says 42-year-old man from Pisa, who has two children with his common law wife. "Plus with all the money that the Catholic Church has, why should parishioners be the ones to donate the money for the guaranteed fund; instead our priests should take the money from their own pockets, God knows they have more of it than Italians do. How can they ask parishioners to donate money in this economic climate?", he adds.
Not all Italians are against the idea, however. Massimo Rossi took advantage of a 3.2 million euro fund recently set up by the archdiocese of Milan to which people can contribute both in church or over the Internet. "Where is the State when you need it? If it weren't for the church, me, my wife and my daughter would be on the street right now; I had a contract job in a factory but when the economy crashed I was one of the first to be sent home and without any unemployment insurance", says Rossi, who has been unemployed for over six months.
As the economic downturn worsens, the Catholic Church's latest role as financial advisor may be the answer to Italian families' prayers.
Brenda Dionisi for RT
You can share this story on social media: