Rome protests Nazi war criminal's 100th birthday celebrations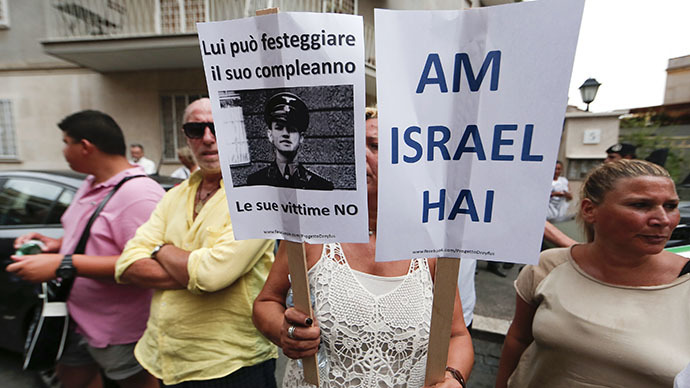 Scores of protesters took to the streets of Rome to challenge the 100th birthday celebrations of former SS captain Erich Priebke, who jointly led one of Italy's worst wartime massacres in which over 300 civilians died. He is living under house arrest.
The demonstrators, which included members of Italy's Jewish community, expressed anger over the milestone being celebrated. They cited two victims of the massacre who didn't even make it to their 18th birthdays.

The rally was organized by Jewish group "Project Dreyfus," and the presence of numerous Israeli flags was visible. A large sign was displayed recalling the names of each victim.

"We are here because there is still a free Nazi, a Nazi hangman who should be in jail, who was sentenced to life imprisonment, and instead is here," protester Micol Anticoli told AP.

Priebke's grandson arrived at his grandfather's living quarters with a bottle of champagne, prompting one individual to yell "It's a provocation! Arriving with a bottle of champagne!," as others chanted "Shame!" and "Disgrace!"

"Priebke should have been immediately, immediately not even burnt to death, but something even more terrible," said Rabbi Vittorio della Rocca, who attended the protest.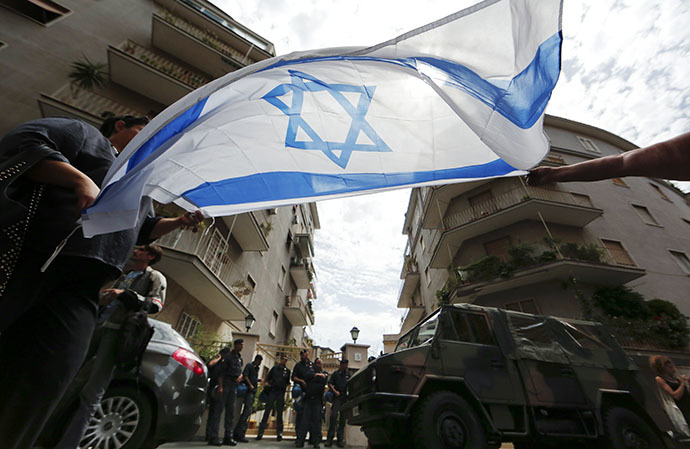 But one provocative poster, wielded by the Militant Community of Tiburtina (a Rome neighborhood), read,
"Happy Birthday Captain Priebke,"
local daily newspaper Corriere della Sera reported.
Associazione Nazionale Partigiani d'Italia (ANPI) – the National Association of Italian Partisans – had its headquarters inscribed with swastikas and other graffiti in support of Priebke. Similarly supportive symbols and declarations were found in other areas of the capital.
Priebke was sentenced to life imprisonment in 1998 for the deadly massacre which took place in March 1944 during which 335 people were machine-gunned down in the Adeantine Caves near Rome.
Priebke stood accused of multiple homicide aggravated by cruelty and was extradited to Italy in 1994 from Argentina, where he had lived for years after the war. He insisted he was guilty of shooting just two people and only helped round up the other victims, saying he was acting under orders.
The scene of the massacre - which had initially been dynamited to hide evidence - is now a memorial cemetery and national monument. Seventy years have passed since the close of WWII, yet it the massacre still ignites strong emotion from those who believe Priebke was not adequately punished.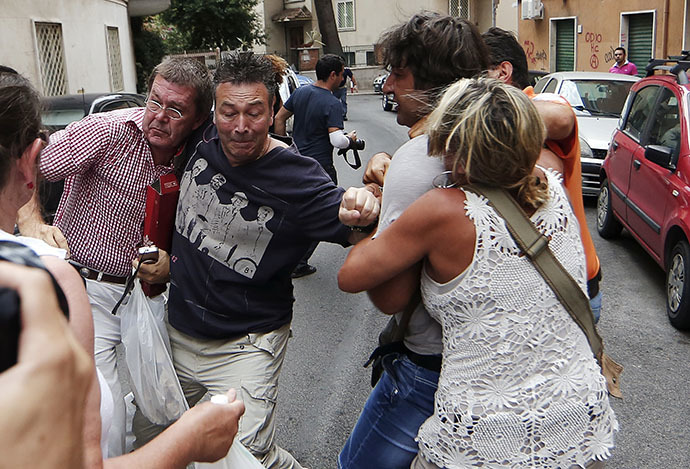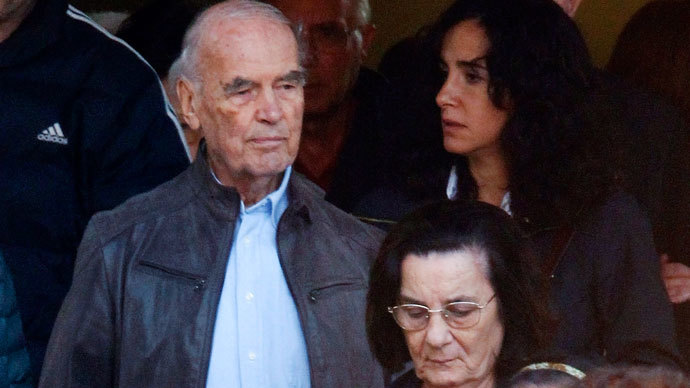 You can share this story on social media: