US, NATO, EU lecture Russia with 'provocative statements' on Ukraine
Moscow has urged NATO to refrain from provocative statements on Ukraine and respect its non-bloc status after a chorus of Western politicians said Russia should be "transparent" about its military drills and avoid any steps that could be "misunderstood."
"When NATO starts giving a consideration the situation in Ukraine, it sends out the wrong signal," the Russian Foreign Ministry said in a statement published on its website on Thursday.
As Ukraine's turmoil has shifted to the ethnic Russian-majority in the Crimea region, the US, NATO, and the EU have all voiced their concerns over the situation as well as come up with proposals on how Russia should act.
At the same time, the EU-brokered agreement to settle the Ukrainian political crisis which was signed on February 21 and certified by the foreign ministers of Germany, Poland and France "is still not being implemented," Russia said.
"Militants, who still haven't surrendered arms and not vacated administrative buildings, announced their intention to 'bring order' to all Ukrainian regions," the Russian ministry said.
The agreement to jointly investigate violence, as well as to form a national unity government "fell into oblivion," Moscow said. "Instead, as it was announced on [Kiev's] Maidan 'a government of winners' has been established which includes nationalist extremists."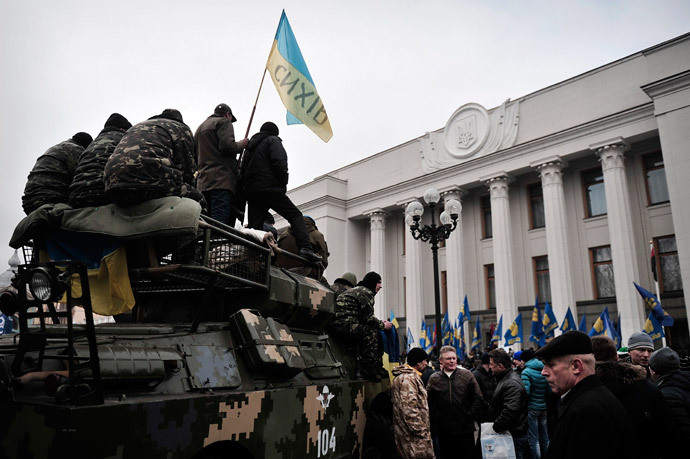 Russia urged foreign partners who encouraged the opposition rallies in Ukraine and then initiated the February 21 settlement agreement, to realize their responsibility to work towards its fulfillment.
Moscow says it is ready to cooperate with the West on Ukraine, just as it had been offering to do long before the crisis in the country descended to bloody unrest.
"But we are ready to cooperate if there is a clear understanding that the cooperation should be honest, and based on an ability to make agreements as well as to fulfil them. And agreements should take into consideration interests of all the Ukrainian people as well as of all Ukraine's partners," the ministry's statement reads.
'Moscow, be careful' chorus
The barrage of comments from the West particularly intensified after President Vladimir Putin ordered on Wednesday a surprise military drill to test the combat readiness of the armed forces across western and central Russia. The move – Moscow underlined – was not related to events in Ukraine and was in full compliance with Russia's international agreements (The Vienna Document 2011) and obligations. That has been confirmed by NATO.
However on Thursday, NATO's chief Anders Fogh Rasmussen urged Russia "not to take any action that could escalate tension or create misunderstanding."
His statement was echoed by American Defense Secretary Chuck Hagel who said that Moscow must be transparent about military exercises along the Ukrainian border and not take any steps that could be misinterpreted or "lead to miscalculation during a delicate time."
US Secretary of State John Kerry warned Moscow Wednesday to be "very careful" with its approach to Ukraine and respect its territorial integrity.
A similar sentiment came from the head of another NATO member-state, British Prime Minister David Cameron.
"We are particularly concerned by the situation in Crimea - every country should respect the territorial integrity and sovereignty of Ukraine," Cameron added at a joint briefing with German Chancellor Angela Merkel in London on Thursday.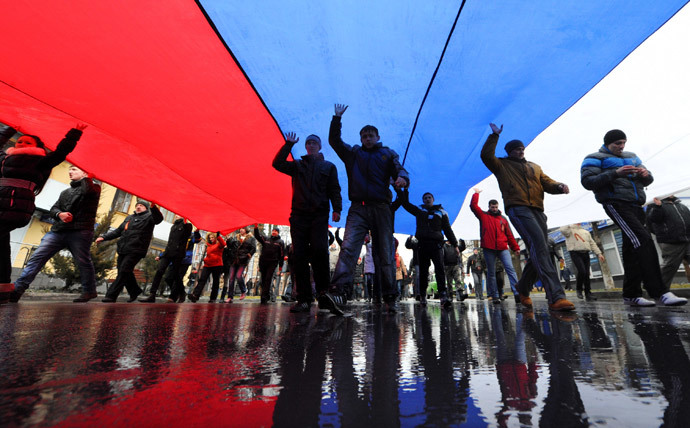 Lawmakers in Ukraine's Autonomous Republic of Crimea voted Thursday to hold a referendum to determine the region's future. According to the parliament's spokeswoman as a result of "the unconstitutional seizure of power in Ukraine by radical nationalists supported by armed gangs," Crimea's peace and order is "under threat." Ethnic Russians form around 58.3 percent of the population of the peninsula on the Black Sea.
Turmoil in the region began after the new Ukrainian authorities ousted President Yanukovich and revoked a 2012 law that allowed regions to use minority languages, including Russian, as second language.
The European Parliament also had its say pointing out in a resolution that Russia must not put economic pressure on Ukraine. Moscow "pledged to uphold Ukraine's territorial integrity in the "Budapest memorandum" signed with the US and the UK in 1994," the parliament's press service reported. In the same act, they added, "it also pledged to refrain from exerting economic pressure on Ukraine in order to subordinate it to its own interests."
On Thursday, NATO defense ministers and Ukraine's first deputy defense minister gathered in Brussels to discuss the Ukrainian crisis, while the parliament in Kiev was busy forming the new Cabinet.
German Defense Minister Ursula von der Leyen said it was important "that we prevent a breakup of the Ukraine, and that special forces in the country are strengthened," Ruptly TV reported.
"NATO stands ready to support democratic development, defense reforms, military cooperation and democratic control over the security sector," Rasmussen said after the session of the NATO-Ukraine Commission. NATO, which "has a long-standing partnership" with Ukraine is set to continue its engagement and support the country "on the path of democratic and inclusive reforms," he added.
A day earlier, Rasmussen also noted that the door to NATO remains open to Ukraine, admitting though that there are "more urgent priorities" for the country's new leadership.
Russia, in response blamed the western alliance for attempting to make a decision for Ukrainians.
"So, the membership should remain among not so urgent, but still priority tasks?" the Russian Foreign Ministry said on Thursday. "We strongly recommend everyone to refrain from provocative statements and respect Ukraine's non-bloc status."
You can share this story on social media: